Equipment such as the NXG XII 600 will be part of this challenging journey" declares Francois-Xavier FOUBERT, General Manager of Safran Additive Manufacturing Campus.
Lübeck, Germany - March 30, 2023. Safran, an international high-tech company operating in the aviation, defense and space markets, choose to work with SLM Solutions' NXG XII 600. The production system will be used to produce large, qualified aluminum parts for current and next generation program. It will be added to Safran Additive Manufacturing Campus in Le Haillan near Bordeaux, where SLM® 500 machines are already in use. With the last generation NXG XII 600, Safran acquires one of the most productive systems on the market with twelve 1kW laser power.

"Safran is engaged in reaching carbon neutrality for aviation by 2050. Additive manufacturing is one of the main assets to secure this ambitious but realistic target, enabling to develop innovative architecture on our products, as long as reducing significantly their weight. Equipment such as the NXG XII 600 will be part of this challenging journey" declares Francois-Xavier FOUBERT, General Manager of Safran Additive Manufacturing Campus.
"With its unparalleled features in the industry, the NXG XII 600 provides new horizons for Safran. The capability to produce bigger parts with stringent quality, cost, and throughput requirements triggers new part designs, and new business cases that were previously impossible to manufacture. SLM Solutions is proud to contribute to this new era of manufacturing," says Sam O'Leary, CEO of SLM Solutions.
About SLM Solutions
SLM Solutions is a global provider of integrated metal additive manufacturing solutions. Leading the industry since its inception, it continues to drive the future of metal AM in every major industry with its customers' long-term success at its core. SLM Solutions is home to the world's fastest metal additive manufacturing machines boasting up to 12 lasers and enabling build rates of up to 1000ccm/h. With a portfolio of systems to suit every customer's needs, along with its team of experts closely collaborating at every stage of the process, SLM Solutions leads the way in return on investment with maximum efficiency, productivity, and profitability. SLM Solutions believes that additive manufacturing is the future of manufacturing and has the desire and capability to take its customers there - right now.
SLM Solutions is a publicly-traded Company headquartered in Germany, with offices in Canada, China, France, India, Italy, Japan, Singapore, South Korea, and the United States.
Further information is available on www.slm-solutions.com
About Safran :
Safran is an international high-technology group, operating in the aviation (propulsion, equipment and interiors), defense and space markets. Its core purpose is to contribute to a safer, more sustainable world, where air transport is more environmentally friendly, comfortable and accessible. Safran has a global presence, with 83 000 employees and sales of 19.0 billion euros in 2022, and holds, alone or in partnership, world or regional leadership positions in its core markets. Safran undertakes research and development programs to maintain the environmental priorities of its R&T and Innovation roadmap.
Safran is listed on the Euronext Paris stock exchange and is part of the CAC 40 and Euro Stoxx 50 indices.
For more information: www.safran-group.com
Featured Product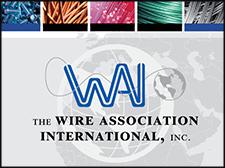 The Wire Association International (WAI), Inc., founded in 1930, is a worldwide technical society for wire and cable industry professionals. Based in Madison, Connecticut, USA, WAI collects and shares technical, manufacturing, and general business information to the ferrous, nonferrous, electrical, fiber optic, and fastener segments of the wire and cable industry. WAI hosts trade expositions, technical conferences, and educational programs.