Expansion allows Fictiv to meet customers' most demanding R&D project needs through its fast, online service
Fictiv, the operating system for custom manufacturing, today announced the addition of 10 new 3D printing materials to its online quoting platform, perfect for more advanced prototyping needs. All of these new materials can be instantly quoted for dynamic pricing, lead time, and manufacturability feedback and parts can be delivered as fast as 24 hours.

Fictiv's mission is to help customers simplify sourcing for custom parts. This new selection of advanced 3D printing materials through Fictiv's fast, online service will help engineers and purchasers shave days off of ordering times compared with traditional manufacturing. The process to order 3D printed parts through Fictiv is self-service, with the option of speaking with an expert for consultative guidance, and can be done in a matter of minutes, increasing overall project efficiency. Additionally, every order is matched with a highly-vetted manufacturing partner for dependable quality.
The new materials are ideal for a wide variety of applications across automotive, industrial, consumer products, and medical industries, for concept models, functional assemblies, jigs and fixtures, and much more.
The new materials are:
Selective Laser Sintering
Nylon 12 Glass-Filled (Duraform GF)
Fused Deposition Modeling
ABS ESD
ASA
PC+ABS
Polycarbonate (PC)
Stereolithography
Accura 60
Accura Xtreme White 200
Accura Xtreme Grey
MultiJet Fusion
Nylon 11
Polypropylene
In addition to the new materials, Fictiv has also increased the available print bed size for its SLS, FDM and SLA 3D printing technologies.
To learn more about Fictiv's new 3D printing materials, visit the company's website.
About Fictiv
Fictiv is the operating system (OS) for custom manufacturing that makes it faster, easier, and more efficient to source and supply mechanical parts. Its intelligent OS, supported by best-in-class operations talent, orchestrates a network of highly vetted and managed partners around the globe for fast, high-quality manufacturing, from quote to delivery. To date, Fictiv has manufactured more than 20 million parts for early-stage companies and large enterprises alike, helping them innovate with agility and get products to market faster.
Featured Product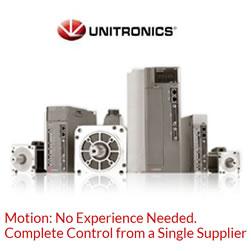 Unitronics' line of AC Servo Drives & Motors changes the traditional approach to motion control. They are simple to set up and painless to program. Unitronics Servos simplify implementation of motion applications while minimizing complexity and reducing development time. Some of the easy-to-use features in this new line include implementing motion control easily with ready-made motion code, embedded diagnostic tools, and automatic communication setup.