The Wire Association International (WAI), Inc. announces two keynote speakers scheduled to open its Interwire
Madison, Connecticut, USA - January 25, 2023 - The Wire Association International (WAI), Inc. announces two keynote speakers scheduled to open its Interwire

Tuesday, May 9 - 9:00 a.m.
Mr. Srinivas Siripurapu, Chief Innovation and R&D Officer of Prysmian Group, will present his keynote address: "Innovation, Investments & Incentives - Electrifying the Wire and Cable industry for a brighter future."
Overview: The trifecta of clean energy, grid modernization and digital transformation is driving innovation on steroids for the wire and cable industry. For example, the US government has set a goal to deploy 30GW of new offshore wind energy by 2030 and 15GW of floating wind farms by 2035. These ambitious targets can only be achieved with reliable hi-tech cabling infrastructure such as novel 525kV HVDC systems that can transmit over 2GW of power. The presentation will showcase multiple examples of new technologies that will energize wire and cable manufacturing with increased investments and spur economic growth.
Wednesday, May 10
Mr. Rich Stinson, President and CEO of Southwire Company, will address the audience with his keynote presentation titled: "The Future is Electrified."
Overview: Industry megatrends are changing the future, and electrification is going to play a major role. There is a fundamental need and desire to decarbonize; the only way to do it is to move from an oil-gas fueled economy to an economy driven by electrification. We must be ready to meet the needs of our customers. It's a great time to be in the electrical industry, and Southwire, is focused on further strengthening the future of manufacturing as we all become even more connected, and as electrification plays an even greater role.
Event details:
Introduced in 1981, Interwire is the largest and longest-running wire and cable marketplace in the Americas. Hosted biennially, Interwire is an international trade event that includes exhibiting companies, speakers, and visitors from more than 50 countries. All Interwire 2023 conference registrants have access to the keynote presentations. Conference details and registration information is available on the event website: www.interwire23.com.
Prysmian Group is a global leader in the energy, telecom cables, and systems industry, offering the best cable solutions based on leading-edge technology.
Southwire is the leading wire and cable manufacturer in North America and an emerging influence in the electrical industry. The $9 billion organization is made up of more than 8,500 team members across the globe who unite as ONE Southwire each and every day to serve each other, their customers and their communities.
WAI, founded in 1930, is a not-for-profit association with more than 2000 individual members in 50 countries. The association serves the educational needs of the wire and cable manufacturing industry through a variety of products and services. WAI manages the Interwire Trade Exhibition and the WAI Operations Summit & Wire Expo and publishes the Wire Journal International and the Wire Journal International Reference Guide.
Featured Product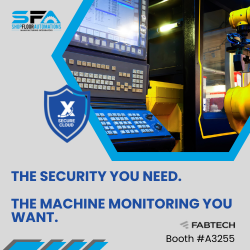 For manufacturers adhering to regulations like International Traffic in Arms (ITAR), Defense Federal Acquisition Regulation Supplement (DFARS) and other security and compliance requirements, the ability to monitor disparate machines, each with a unique control system and communication protocol with varying ages, can make continuous improvement initiatives challenging in the cloud. The Scytec DataXchange solution, available through Shop Floor Automations, resolves these issues by leveraging AWS GovCloud to capture real-time, Industrial Internet of Things (IIoT) data from a variety of equipment - from lasers and press brakes, to saws and robots - through universal machine connections to give teams full transparency on the shop floor through an architected secure cloud solution for a total smart factory transformation.