Predictive Maintenance - The revolution in various industries. Understanding how brilliant sensors and the coupling of their information with AI calculations empower the change from condition observing to prescient upkeep is critical to receiving the rewards of IoT.
Currently, many studies and research have shown that PM has shown the value for the money for OEMs, FAbs, Assemblies, and factories in a plethora of industries. To be honest, it is not even a shocking fact that it is as easy as attaching a few sensors to the equipment and getting full access to predictive maintenance technology.

We at eInnoSys, provide predictive maintenance solutions as a turnkey solution to various OEMs all around the Globe. However, our product provides accurate insight into the working of the equipment and predicts failures for further decision-making probes.
Our product, SeerSight starts with the gathering of information on the state of parts whose calculations lead to a simulated intelligence framework that predicts the requirement for maintenance. Talking about the operators, maintenance staff are now and again hesitant to finish predictive maintenance due to some extent of incredulity about the legitimacy of expectations.
Now, talking in the depth about our PM Solutions (SeerSight)
SeerSight comes with all required hardware and software, including smart sensors, Artificial Intelligence, and Machine Learning based data analysis software, and other required hardware.
SeerSight continuously monitors your equipment's health through smart sensors, detects anomalies through proprietary AI/ML-based algorithms, and notifies you when it predicts component health deterioration thereby preventing unexpected equipment failure.
Featured Product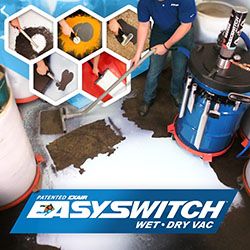 EasySwitch Wet-Dry Vacuum simplifies the filter change process when switching from vacuuming a dry material to a liquid or vice versa. The EasySwitch is a powerful pneumatic vacuum that is ideal for any application - wet, dry, light and heavy. https://exair.co/184_5175 Learn more about our special on our vacuums at https://exair.co/184-vacpromo