Removes additional risks associated with adopting automation by allowing factories to swap pay-by-the-hour robotic systems to meet shifting operational needs, with no replacement costs
CHICAGO―December 7, 2022, Formic, accelerating the adoption of automation across American manufacturing, today announced the introduction of Formic FlexTM - a unique service offering that recognizes the shifting needs and changing requirements that manufacturers face. Formic FlexTM enables manufacturers to subscribe to robotic systems by the hour and when their needs shift, swap those systems for other systems at no cost. Allowing manufacturers to boost their productivity without being tied to specific equipment, Formic FlexTM applies to selected and certified robotic tenders across various applications, such as machine tending, welding, palletizing, depalletizing, and case packing.

Reflecting Formic's commitment to minimizing the barriers to automation for US manufacturers, Formic FlexTM protects businesses that don't have long-term visibility into their operations from tying up their capital in equipment they can no longer use. As their operational needs change, Formic customers can simply change their robotic system, without paying additional fees.
"Manufacturers have hesitated to adopt automation because it implies losing the flexibility of their operation," said Formic CEO and founder Saman Farid. "We understand the challenges businesses face, and their need to adapt and grow in response to the environment around them. Our Robotics-as-a-Service (RaaS) solution removes the risks traditionally associated with automating to deliver scalable productivity and sustainable growth with zero capital investment. As our customers' operations morph and grow, our new Formic FlexTM offering allows the robotic solutions already in place to morph and grow with them."
Formic FlexTM adds to the company's innovative RaaS solution, which delivers full-functioning, customized robotic systems from leading robotic vendors to customers who pay by the hour for usage. Formic owns, programs, installs, and maintains the robots at its own cost and operates a unique model in which customers do not pay until the system is deployed and fully operational. Additionally, once systems are activated, Formic covers all the engineering and costs for repair and maintenance and does not charge hourly fees during downtime.
75% of Formic's customers deploy their first robots through Formic. With all of the complexity and risk of automating removed, these customers typically pay 42% lower operating expenses and boast a $25K annual savings per system, on average.
About Formic
Founded in 2020, Formic is accelerating the adoption of automation across small to mid-sized U.S. manufacturers and boosting productivity by removing the risk, complexity, upfront capital, and expertise that typically exist as barriers to onboarding this technology. The company's "Robotics-as-a-Service" model delivers customized robots at a low hourly rate, with guaranteed uptime. With a full-service offering that includes everything from planning and deployment to maintenance and upgrades, Formic is creating an innovative and accessible competitive advantage for small and mid-sized factories to ensure they stay relevant and thrive in any economy. Formic is backed by some of the world's leading technology investors, including Initialized Capital and Lux Capital. Go to formic.co for more info.
Featured Product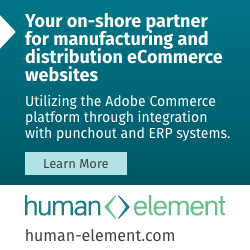 With Human Element, you will build a strategic partnership with experienced on-shore strategists and developers who understand the pain points unique to manufacturers and distributors. Using Agile methodologies and proven eCommerce website development strategies, our team positions clients for success.