Specialty fibers used for cure wrap, structural reinforcement, and stress/strain measurement
Bally Ribbon Mills (BRM), an industry leader in the design, development, and manufacture of highly specialized engineered woven fabrics, offers unique fabrics from specialty fibers ideal for industrial applications in the engineered rubber industry.

BRM's specialty fabrics, available in a wide variety of fiber combinations and weave structures, are used in the engineered rubber industry for the manufacture of rubber belting, rubber hoses, and other specialty rubber applications. Proprietary BRM fabrics are available for cure wrap for hoses to hold the rubber in place during the curing process, internal reinforcements to improve tensile resistance, and belting, in which layers of rubber sheet and fabric are combined to increase strength and elongation resistance.
Also available are proprietary E-WEBBINGS® smart technology fabrics, which is integrated into structural reinforcement for engineered rubber products. The textile is used to optimize the interface between the sensor and rubber substrate for translational stress and strain measurement. The BRM fabric provides local stability to the elastomer so it can more easily translate stress or strain properties to the embedded sensor.
For more information on BRM's industrial fabrics, go to www.ballyribbon.com.
About Bally Ribbon Mills
Bally Ribbon Mills (BRM) designs, develops, and manufactures highly specialized engineered woven webbing, tapes, specialty fabrics, woven preforms, and two dimensional and three dimensional structural fabrics. With more than 95 years of textile manufacturing experience, BRM has earned a reputation for meeting new advanced design challenges. Working in aerospace, defense, medical, safety, automotive, commercial, and industrial applications, BRM offers ingenuity, technical know-how, extensive weaving capabilities, and rigorous quality assurance systems. For more information, visit www.ballyribbon.com or call 610-845-2211.
Featured Product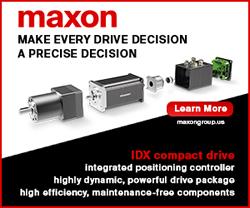 maxon motor launches new high-speed motors that are configurable online. The new ECX brushless motors are quiet and feature very high efficiency. The ECX motors are available with diameters of 8, 16 and 19 mm achieving speeds of up to 120,000 rpm. They run very smoothly and are highly efficient. With maxon motor's online configurator, it is easy to put together a customized DC motor to include gearhead, encoder and controller. The customized motors are ready to ship in 11 days!