At IMTS 2022 in Booth 431822, REGO-FIX will showcase innovations that extend the company's Swiss precision beyond toolholding.
REGO-FIX Features New and Expanded Product Lines at IMTS 2022

WHITESTOWN, Ind., September 1, 2022 - At IMTS 2022 in Booth 431822, REGO-FIX will showcase innovations that extend the company's Swiss precision beyond toolholding. Featured technologies include the 3D-EdgeMaster measuring device and MasterBar test arbors - two new product entries for setup and test measurement. Other spotlighted innovations are expansions to the company's existing lines of internal coolant retrofit systems with additional flexibility for high-speed spindles and for turning centers along with the company's new powRgrip® CoolBore collets that offer peripheral cooling in a form-fitting tool grip, and powRgrip Sealed Cap Collets to protect tools from contaminants and dust.
To add REGO-FIX precision to setup measurements, ergonomic 3D-EdgeMaster centering devices shorten setup time and ensure part accuracy in an IP 67-compliant shockproof and splashproof design for demanding applications. Designed to set zero points, probe reference edges and workpieces, calibrate measuring paths, center machine axes and determine bore centers, these new devices feature repeating accuracy of ≤0.01 mm. 3D-EdgeMaster is available in metric and inch sizes and with short or long probes, all individually serial numbered, with fully traceable inspection and performance certification for demanding industries.
Shops can minimize spindle-damage risks and maximize process reliability with MasterBar test arbors, available with HSK, steep-taper ST, BT and CAT interfaces for correct machine tool setup and spindle precision with every use. Ground to the same exacting specifications as REGO-FIX toolholding products and supplied with full technical certification, these devices check spindle runout, spindle and arbor alignment, and arbor length to boost part quality, reduce scrap and recheck for changes in runout and parallelism after a crash.
Hi-Speed reCool (RCR-Hi) quickly and easily retrofits high-speed and high-frequency spindles up to 40,000 rpm for precise internal coolant delivery at 100 bar maximum pressure with emulsion and oil-based coolants. This patented solution makes full use of high performance equipment, with a ceramic coating for reduced friction and support for ER(M) 11 and 16 sizes in 3-10 mm tool shank diameters.
Now turning centers can benefit from the increased productivity, longer tool life and greater chip-evacuation efficiency with the quick-installing internal coolant conversion of externally threaded reCool (RCR-AX) for internally threaded live tools. Designed for lathes up to 12,000 rpm, this solution supports 100 bar maximum pressure with emulsion or oil-based coolants and 3-20 mm tool shank diameters. A copper-like coating reduces friction for higher performance.
For the highest gripping force of any REGO-FIX coolant collets, form-fit powRgrip CoolBore Collets (PG-CB) deliver high-pressure peripheral coolant for optimized chip removal in medium to high-performance applications. These collets change out quickly with other powRgrip coolant collets and provide maximum coolant output pressure for PG 25 (including short collets) and PG 32.
Shops that machine ceramics, sintered carbide, graphite, glass and other complex materials can protect their tools from contaminating chips and dust particles with powRgrip Sealed Cap Collets (PG-SC). These quick-change collets provide ultra-low total system runout of ≤3 µm at 3 x D, with equally high vibration damping for long toolholder life and consistent performance. Also available with optional cooling channels, these completely closed heads and sealed caps are a must with today's demanding materials.
About REGO-FIX
With U.S. headquarters in Whitestown, Indiana, REGO-FIX, inventor of the original ER collet system, is a world leader in the manufacture of Swiss precision tooling. For more information on REGO-FIX, its products and services, or to request a catalog, please call 1.800.REGO-FIX or visit the company's website at www.REGOUSA.com.
Featured Product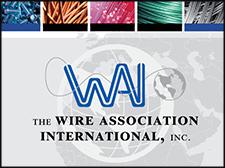 The Wire Association International (WAI), Inc., founded in 1930, is a worldwide technical society for wire and cable industry professionals. Based in Madison, Connecticut, USA, WAI collects and shares technical, manufacturing, and general business information to the ferrous, nonferrous, electrical, fiber optic, and fastener segments of the wire and cable industry. WAI hosts trade expositions, technical conferences, and educational programs.