Company's Innovative Motion Planning Software on Display in Demo Cells Highlighting Its Ability to Revolutionize Automotive Manufacturing
Realtime Robotics, the leader in autonomous motion planning for industrial robots, today detailed its presence at the upcoming Automate 2022 event, taking place at the Huntington Place Convention Center in Detroit, MI, from June 6-9, 2022.

Realtime Robotics' innovative motion planning and collision avoidance software, RapidPlan, will be on display in demo cells located at Kawasaki Robotics Inc. booth #2332 and Mitsubishi Electric Automation booth #1023. Show attendees are encouraged to stop by and take part in a real-time display of the future of factory robotics automation.
In addition, company executives will be sharing their industry insights on several topics of importance to the robotic industry in a trio of speaking presentations at this year's event. Attendees can look to connect with Realtime Robotics speakers at the following presentations:
Fireside Chat with Mitsubishi Electric Automation
Speakers: Patrick Varley, the Product Marketing Manager for Mechatronics at Mitsubishi Electric Automation will be having a one-on-one discussion with Tom Munger, Director of North American Sales at Realtime Robotics.
Topic: The two will discuss how multi-robot work cells can operate safely at a productive pace in unstructured and dynamic environments.
When: Monday, June 6, 2022 from 10:30 - 10:45 am EDT
Where: Mitsubishi Electric Automation booth #1023
Startups Simplifying Automation Panel Discussion
Speakers: Tom Munger, Director of Sales, North America, Realtime Robotics; David Dechow, Vice President of Outreach and Vision Technology, Landing AI; and Juan Aparicio, VP Product, Ready Robotics
Topic: This panel discussion will focus on what the future of workplace automation is and how innovative technologies will help companies improve the efficiency and effectiveness of said automation.
When: Monday, June 6, 2022 from 3:30 - 4:15 pm EDT
Where: How To Automate track, 300 Level - Huntington Place
Using Predictive Technologies in Your Operations
Speakers: Zach Gomez, Senior Director, Global Logistics Business, Realtime Robotics and Tom Knauer, Global Industry Manager - Factory Automation, Balluff
Topic: This discussion will focus on utilizing predictive technologies to improve maintenance procedures and to proactively limit unplanned downtime.
When: Tuesday, June 7, 2022 from 2:30 - 3:15 pm EDT
Where: AI & Smart Automation track, 300 Level - Huntington Place
For more information on Realtime Robotics and how its innovative software can help your organization optimize its robot programming and deployment, improving efficiency and effectiveness, click here.
About Realtime Robotics
Realtime Robotics technology generates collision-free motion plans in milliseconds for industrial robots and autonomous vehicles. Its solution empowers robots to function together in unstructured and collaborative workspaces, as well as to react to dynamic obstacles the instant changes are perceived. Its solutions expand the potential of automation. Learn more about Realtime Robotics here, watch our technology in action here and connect on Twitter and LinkedIn.
Featured Product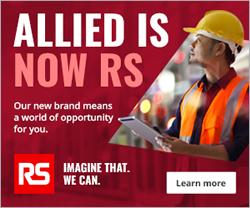 Based off the design pioneered by Anderson in 1953, the two pole SB® connectors set the standard for DC power distribution and battery connections. SB connectors feature a rugged one-piece plastic housing using stainless steel springs to retain the contacts and create the "contact force" that provides extremely low resistance enabling greater electrical efficiency. The SB connectors are also genderless (flip one 180 degrees and they will mate to each other) reducing the customer's bill of materials and providing greater economies of scale when purchasing. The SB series of connectors range in size from SB50 to the SB350. Each family size offers color-coded, mechanically keyed housings designed to prevent both visually and physically cross-mating devices with different voltages. All the connectors are UL rated to 600 volts, so the keys and colors are just identifiers to prevent accidents. Contacts are traditionally Silver plated to minimize electrical resistance while offering supreme durability and reliability.