The exclusive self-cleaning vortex action and proprietary finish on internal components dramatically extends service life between cleanings
Dexter, MI - Q.E.D. Environmental Systems, Inc., a leading manufacturer of innovative environmental products and subsidiary of Graco Inc. (NYSE: GGG), announces the new AutoPump® AP4™ Ultra® Xtreme® pump for the most extreme landfill and remediation pumping applications. The exclusive self-cleaning vortex action and proprietary surface finish on internal components dramatically improves performance, allowing pumps to operate up to 10 times longer than the AP4 Ultra pump between cleanings.

The new AP4 Ultra Xtreme pump utilizes the same unique, non-stick coating and polished metal internal components as the QED AP4 Ultra and Ultra High Temperature pumps with their exclusive AutoPump Xtreme self-cleaning action.
The combination of the AP4 Ultra coating and the continuous internal scouring of the vortex action also means a reduction of over 50% of time spent cleaning the pump internal components versus the AP4 pump.
The AutoPump AP4 Ultra Xtreme pump is available as a Short, Bottom Loading pump in either a standard AP4 Ultra or AP4 Ultra High Temperature pump.
Featured Product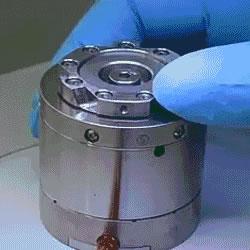 Hexapod micro-motion 6-axis platforms are based on a very flexible concept that can easily solve complex motion and alignment problems in fields including Optics, Photonics, Precision Automation, Automotive, and Medical Engineering.