With this relationship, Hemetek is distributing Pleora's new AI solutions to help ensure end-to-end product quality for manufacturers and brand owners in the region.
Ottawa, CANADA, September 15, 2021: Pleora Technologies today announced a new distribution partnership with Hemetek Techno Instruments, an established provider of quality testing solutions for the packaging, pharmaceuticals, consumer goods, polymer, plastic, and food & beverage industries in India. With this relationship, Hemetek is distributing Pleora's new AI solutions to help ensure end-to-end product quality for manufacturers and brand owners in the region.

"Digital transformation, including augmenting existing quality monitoring systems with AI capabilities and automating or adding decision-support for manual inspection, is a key way for manufacturers to increase productivity and profitability," said Jonathan Hou, President, Pleora. "Our AI solutions, combined with systems expertise and complimentary technologies from Hemetek, will help Indian manufacturers become the supplier of choice for domestic and global markets."
Customers rely on Pleora's AI expertise to automate manual processes, improve reliability, and lower the cost of quality inspection in the consumer goods, automotive, food & beverage, and print & packaging markets. The company's AI solutions include a 'no code' software platform that simplifies algorithm development, edge processing to seamlessly deploy advanced AI capabilities alongside existing infrastructure and end-user processes, and an offline inspection system that automatically identifies product deviations and alerts operators and inspectors.
"Hemetek is dedicated to nurturing a 'quality improvement culture' in India, which includes working with manufacturers to deploy solutions that ensure the best products for consumers," said Viraj Devasthale, Director, Hemetek Techno Instruments. "Partnering with Pleora, we're offering advanced AI capabilities that integrate with existing inspection applications, infrastructure, and end-user processes to improve quality and lower costs."
Pleora at Automation Expo Connect
Pleora is attending India's biggest and Asia's 2nd largest exhibition for the automation industry - Automation Expo (www.automationindiaexpo.com) from September 22-25, 2021. As part of the virtual event's Conference on IIoT, Pleora President Jonathan Hou will be speaking on building an IoT/edge computing enabled manufacturing environment.
About Pleora Technologies
Pleora's AI solutions, including an intuitive "no code" software platform, edge processing, and a camera-based offline inspection system, help manufacturers reduce errors that result in poor product quality, maintain brand standards, inspect challenging materials, and automate error-prone human inspection. Established in 2000, the company serves over 1500 active customers in the industrial automation, medical imaging, and security and defense markets. Headquarter in Ottawa Canada, Pleora has 75 employees in research, sales, and support locations in North America, Europe, and Asia. Learn more at pleora.com.
About Hemetek Techno Instruments
Hemetek has evolved with two decades of expertise, competence, technology and a committed team. At Hemetek, we address new challenges in the field of testing and inspection. Be it designing a new testing solution for a novel product design or solving the problems encountered by specific industries and meeting their requirements. Hemetek offers you assurance to inspect, measure and validate with our comprehensive range of products, solutions and services, so you can make better business decisions.
Featured Product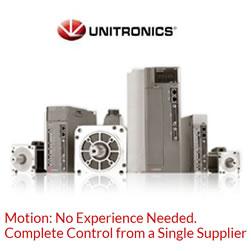 Unitronics' line of AC Servo Drives & Motors changes the traditional approach to motion control. They are simple to set up and painless to program. Unitronics Servos simplify implementation of motion applications while minimizing complexity and reducing development time. Some of the easy-to-use features in this new line include implementing motion control easily with ready-made motion code, embedded diagnostic tools, and automatic communication setup.