New Resin e-PerFORM, Based on SLA Resin Somos PerFORM, Has Been Optimized for EnvisionTEC 3D Printers
EnvisionTEC and Covestro today announced their collaboration on material+printer solutions to accelerate adoption of industrial 3D printing. Together, the two companies aim to lower the entry barriers for companies looking to adopt 3D printing for producing molds for low volumes or parts with detailed features faster and more economically.

The combination of Covestro material expertise and EnvisionTEC printer technology resulted in a complete industrial manufacturing solution for 3D printing injection mold tooling. Until now, no solution was available that met the stringent industry-required properties in terms of dimensional stability and minimal warpage. The patented material formulation from e-PerFORMTM, optimized for EnvisionTEC's equipment, brings the benefits of Somos® PerFORM to a faster and more economical printer technology.
To bring customers a workable and demonstrated material+printer solution, EnvisionTEC and Covestro optimized print parameters and verified Covestro's new DLP resin e-PerFORM on EnvisionTEC's Perfactory P4K series printer. EnvisionTEC further tested e-PerFORM resin with key molding institutes to validate the material's performance. Completed mold trials demonstrate that e-PerFORM resin, with high stiffness and high temperature performance, behaves similarly to stereolithography resin Somos PerFORM for injection molding tooling.
Tests confirm suitability for rapid mold making
Tests done by Polyvia, the French Federation of Plastics and Composites, confirm the suitability for rapid tooling. Guy Chrétien, Process project manager at Polyvia confirmed: "We tested the new e-PerFORM resin printed on the EnvisionTEC P4K printer and demonstrated that we could achieve very good results in part fidelity and in the number of shots molded in both polypropylene and glass-reinforced nylon. With the cost effectiveness and print speed of the P4k platform and with the properties of the e-PerFORM resin, this creates additional opportunities for rapid tooling." Learn more about their testing on Polyvia's website.
The combined solution of Covestro DLP resin e-PerFORM on EnvisionTEC's Perfactory P4K series DLP 3D printing will be presented during RAPID+TCT in Chicago from 13-15 September.
Al Siblani, EnvisionTEC CEO commented: "The combination of our P4K printer and Covestro e-PerFORM optimized for our printers enables fast, cost-effective production of injection molding tooling. Our collaboration has resulted in a new and much-needed solution."
Hugo da Silva, Head of Additive Manufacturing at Covestro commented: "By working closely with our partner EnvisionTEC, we developed a material that meets critical needs voiced in the market: improved dimensional stability and minimal warpage for optimal functionality. The validation and proven solution with their P4K printers will help accelerate the adoption of additive manufacturing of injection mold tooling."
To learn more about this solution, visit Covestro (booth E7212) and EnvisionTEC (booth E7501) at RAPID+TCT, September 13-15, 2021.
About Covestro:
With 2020 sales of EUR 10.7 billion, Covestro is among the world's leading polymer companies. Business activities are focused on the manufacture of high-tech polymer materials and the development of innovative, sustainable solutions for products used in many areas of daily life. In doing so, Covestro is fully committed to the circular economy. The main industries served are the automotive and transportation industries, construction, furniture and wood processing, as well as electrical, electronics, and household appliances industries. Other sectors include sports and leisure, cosmetics, health and the chemical industry itself. At the end of 2020, Covestro has 33 production sites worldwide and employs approximately 16,500 people (calculated as full-time equivalents).
To learn more about the legacy-DSM additive manufacturing business, visit www.dsm.com/additive-manufacturing; for Covestro additive manufacturing please go to addigy.covestro.com.
About EnvisionTEC:
EnvisionTEC, a wholly owned subsidiary of Desktop Metal (NYSE: DM), is a leading global provider of professional-grade 3D printing solutions. Founded in 2002 with its pioneering commercial DLP printing technology, EnvisionTEC now sells more than 40 printer configurations based on six distinct technologies that build objects from digital design files. The company's premium 3D printers serve a variety of medical, professional and industrial markets, and are valued for precision, surface quality, functionality and speed. For more information, please visit envisiontec.com/.
Learn more about e-PerFORMTM on EnvisionTEC materials page
Featured Product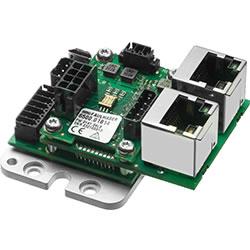 The FAULHABER stepper motor AM3248 raises the bar in terms of performance and dimensions. Offering up to 10,000 rpm, it achieves five times the speed of comparable stepper motors. Combined with a gearhead reduction of 100:1, it supplies a torque of 5 Nm. With a diameter of just 32 mm, it is suited for a wide range of applications in areas such as aerospace, laboratory automation, the semiconductor industry, robotics and 3D printing. Learn more!