The company's quality control and warehousing logistics solutions leverage OnLogic industrial computers to improve products, processes and fulfillment.
Global industrial computer manufacturer and IoT solution provider, OnLogic (www.onlogic.com) has announced that leading machine vision experts, Artemis Vision (www.artemisvision.com), are using OnLogic computers to build solutions for quality control inspection, dimensioning, and smart logistics. The Artemis Vision projects combine the company's experience in creating holistic machine vision solutions, with OnLogic's proven industrial computing hardware to ensure dependable operation.

"The quality and reliability we help our clients deliver needs to be backed by dependable system components," says Reed Schneider, Machine Vision Engineer at Artemis Vision. "That's why we turned to OnLogic to provide us with the first-class hardware they're known for. In these solutions, OnLogic computers do it all."
Artemis Vision is using OnLogic computers for a number of projects, including the RaPTr (Rapid Pallet Tracker), a smart logistics solution used to automatically scan and track barcodes on pallets as they pass through warehouse checkpoints like dock doors. RaPTr drastically improves fulfillment speed and accuracy by eliminating slow and error-prone manual scanning. The system is built on OnLogic's Helix 500 industrial computer platform.
Another Artemis Vision solution enables automatic dimensioning of flooring tiles. The embedded OnLogic computer receives, calibrates, and mosaics images from four high resolution cameras for consistent measurement of varying sizes and materials, providing reliable data and product quality control for the end customer.
OnLogic industrial computers are also utilized by Artemis Vision for a device which automates the inspection of woven and braided products. The solution helps to avoid missed quality issues, eliminate the need for manual monitoring and inspection, and reduces scrap rates that result from catching defects too late. The dimensioning and quality inspection solutions both leverage the power and flexibility of the OnLogic Karbon 700 rugged computer.
"The combination of computers, cameras and machine learning is revolutionizing virtually every industry," says OnLogic Account Manager, Pete Pikulski. "The amazing solutions Artemis Vision is pioneering require hardware that's not only reliable, but also flexible enough to be utilized to power whatever they design next. Our Rugged Karbon Series and Industrial Helix Series are a perfect fit in both size and capabilities."
More details about the Artemis Vision solutions powered by OnLogic computers are available by visiting www.onlogic.com/markets/case-studies/.
About OnLogic: OnLogic is a global industrial computer manufacturer who designs highly-configurable, solution-focused computers engineered for reliability at the IoT edge. Their systems operate in the world's harshest environments, empowering customers to solve their most complex computing challenges, no matter their industry. Fueled by a unique, direct-to-customer business model that combines vertical integration, modular product design, and a powerful online platform, OnLogic produces computers designed to last, built to order, and delivered in days. Founded in 2003 as Logic Supply, the company has offices in the U.S., Netherlands, Taiwan and Malaysia. Learn more about how OnLogic has helped more than 70,000 customers worldwide advance their ideas at www.onlogic.com or on Twitter @OnLogic.
About Artemis Vision: Artemis Vision (www.artemisvision.com) builds vision systems for manufacturing and logistics to help customers deliver on quality promises. An AIA Certified Systems Integrator, Artemis Vision has worked with customers around the globe to help them improve processes, save money, reduce liability, and increase credibility.
Featured Product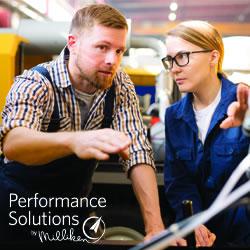 Performance Solutions by Milliken is a dedicated consulting and training group that helps guide businesses toward success. From supply chain, to operations and safety, we're dedicated to developing sustainable results for our clients through the implementation of a holistic operating system. We believe engaging all associates in the process will systematically transform your company to create efficiency, uncover hidden capacity, and generate long-term gains. Are you ready to reinvent your operations and transform your organization? Let's get started.