PMMI awards three scholarships totaling $15,000 for processing, mechanical and electrical engineering
Herndon, Va.; July 21, 2021 - The PMMI Foundation, a part of PMMI, The Association for Packaging and Processing Technologies, awards three $5,000 scholarships to students studying food and beverage processing, mechanical engineering and electrical engineering at four-year PMMI Education Partners.

The recipients of these scholarships are:
• Mechanical Engineering Scholarship - Gaurav Aggarwal, Rutgers University
• Processing Scholarship - Suhayb Islam, Rutgers University School of Engineering
• Electrical Engineering Scholarship - Daniel Tinnell, Purdue University
"These students represent the great potential of the next generation workforce to transform the packaging and processing industry," says Kate Fiorianti, senior manager, workforce development PMMI. "The application criteria, which includes notable industry involvement, means we are recognizing the best and brightest and giving them resources to transfer academic success into professional excellence."
The PMMI Foundation awards over $200,000 in funds each year to students enrolled in PMMI Education Partner programs, demonstrating PMMI's commitment to developing future leaders of the packaging and processing industry.
There are many opportunities to contribute to the PMMI Foundation at the upcoming PACK EXPO Las Vegas and co-located Healthcare Packaging EXPO (Sept. 27-29, 2021; Las Vegas Convention Center). Proceeds from The Amazing Packaging Race contribute directly to PMMI's scholarship offerings. The PMMI Foundation also accepts donations to support its initiatives. To donate, mail checks to PMMI Education & Training Foundation, P.O. Box 791042, Baltimore, MD 21279-1042.
For more information about the PMMI Foundation, go to pmmi.org/foundation. For details about student activities and to register online, visit packexpolasvegas.com and hcpelasvegas.com.
About PMMI
PMMI, The Association for Packaging and Processing Technologies, represents more than 900 North American manufacturers and suppliers of equipment, components and materials as well as providers of related equipment and services to the packaging and processing industry. We work to advance a variety of industries by connecting consumer goods companies with manufacturing solutions through the world-class PACK EXPO portfolio of trade shows, leading trade media and a wide range of resources to empower our members. The PACK EXPO trade shows unite the world of packaging and processing to advance the industries they serve: PACK EXPO International, PACK EXPO Las Vegas, Healthcare Packaging EXPO, PACK EXPO East, Enlace EXPO PACK, EXPO PACK México and EXPO PACK Guadalajara. PMMI Media Group connects manufacturers to the latest solutions, trends and innovations in packaging and processing year-round through brands including Packaging World, Automation World, Healthcare Packaging, Contract Packaging, ProFood World, Mundo PMMI and OEM. PMMI Business Drivers assist members in pursuing operational excellence through workforce development initiatives, deliver actionable business intelligence on economic, market and industry trends to support members' growth strategies and actively connect the supply chain throughout the year.
Learn more at pmmi.org and packexpo.com and pmmimediagroup.com.
Featured Product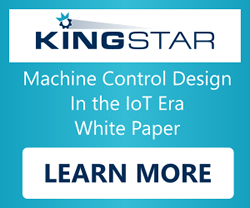 These success stories seek to highlight the industry-level challenges faced, the resulting automation and motion control requirements that need to be addressed, the results that can be achieved and the key platform strategy that allows customers to distinguish themselves in the worldwide market. Download the WhitePaper.