Company leverages high-performing super polymers and composites including PEEK, Carbon PEEK and ULTEM ™ AM9085F to advance large-scale additive manufacturing and global sustainability efforts
HOUSTON - July 12, 2021 - Roboze, a manufacturer of industrial 3D printing technology for extreme end-use applications, announced today the release of the ARGO 1000, the world's first 3D printer with a heated chamber designed to produce large-scale parts with super polymers and composites for industrial applications. The first-of-its kind printer marks an enormous transformation in the additive manufacturing industry, which can now offer customizable, industrial parts and on-demand production at scale.

The ARGO 1000 can produce parts up to one cubic meter, nearly 40 inches by 40 inches by 40 inches, radically transforming the way industries, including aerospace, energy, transportation, MedTech and automotive, can fabricate lighter, higher-quality components. Using more sustainable and high-performing super polymers and composites such as PEEK, Carbon PEEK and ULTEM ™ AM9085F, Roboze is reducing the current strain on global supply chains and rapidly replacing metal parts and mission-critical components for extreme applications.
"After years of specializing in super polymers and high-temperature composites and paving the future of industrial 3D printing, we are excited to introduce our flagship Production Series solution, ARGO 1000," said Alessio Lorusso, Founder and CEO of Roboze. "Since we announced the opening of our new headquarters in North America earlier this year, we have grown our global customer base and invested in R&D to fulfill customer demand for a much larger 3D heated chamber super polymer printer."
The company has been on the forefront of innovation in the additive manufacturing industry, having been one of the first companies in the world to introduce PEEK in 3D printing. Furthermore, the company's industrial automation system and proprietary gear-based (beltless) technology allow the production of parts that are six times more precise than those made with belt-driven printers.
"We have gone far beyond prototypes and are now building custom components for miniature satellites, gears for military-grade vessels, and parts for companies developing the nation's sustainable infrastructure," added Lorusso. "Our technologies ensure precise process control is maintained through the automation of every setting and calibration phase, resulting in continuous accuracy, repeatability, and the certification of every single part produced."
With its premier suite of solutions, Roboze has outpaced existing 3D-capabilities and is exceeding market expectations for custom, on-demand parts. The ARGO 1000 will be available for commercial distribution in 2022.
About Roboze
Roboze is re-shaping the manufacturing industry and revolutionizing the world of 3D printing with the most precise technology, capable of processing super polymers and composite materials on-demand for finished functional parts for extreme applications in industries that include aerospace, oil and gas, energy, manufacturing and mobility sectors. The Roboze high technical ecosystem includes a complete range of advanced 3D printers for high-temperature and high-strength super plastics, developed with the collaboration of the best global players. It guarantees a real optimization of costs and time along the entire supply chain, while bringing additive manufacturing closer to the standards of traditional manufacturing. To date, Roboze is used in more than 25 countries globally and recognized as one of the fastest growing 3D printing companies in the world, serving industry leaders such as GE, Leonardo, the U.S. Army and many others.
###
The ARGO 1000 production system includes:
• Heated and controlled working chamber with printing dimensions equal to one cubic meter (39.37 x 39.37 x 39.37 inches)
• Process control on par with CNC machining and injection molding resulting in process accuracy and repeatability equal to 99.96% of parts obtained on multiple machines
• Dramatic reduction in production time with comprehensive monitoring capabilities, remote diagnostic tools, and predictive maintenance
• Software parameters and constant remote updates for continuous performance improvements
• Certification of every single piece produced via a comprehensive Print Log System that monitors all parameters, temperatures, and factors involved to create a digital model of the part produced
• Printing capability using more than 10 materials including PEEK, Carbon PEEK, Carbon PA, and ULTEM ™ AM9085F
• Double extruder with the ability to process soluble and breakaway supports
• Loading system up to 17.6 lbs./8kg of material with automatic material change in case material ends during the printing process
• Beltless System for achieving mechatronic handling accuracies up to 10 microns
• Automatic self-leveling floor
• Head self-calibration system
• Material management inside the machine: drying and pre-heating systems with automatic material loading and monitoring of usage levels
• Remote management of the machine and interfacing with production ERP systems to monitor the production flow
Featured Product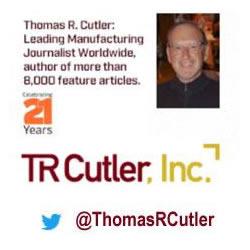 Cutler has authored more than 8000 articles for a wide range of manufacturing periodicals, industrial publications, and business journals including most of the leading monthly trade publications.