Meler consolidates its position as an expert in solutions for the application of industrial adhesives with its latest international launch the past 8th June of Arion: a brand specializing in the improvement and efficiency of adhesive transport processes.
Spain, 10th June, 2021. On June 8th, Focke Meler launched on the market Arion: the new specialist brand centered on hotmelt hoses. The event, primarily focused on industrial and engineering professionals, took place in a virtual format and was available globally through the site https://magicbymeler.com/.

"A track record of more than 40 years in the development of systems for the application of adhesives and sealants has enabled Meler to detect opportunities for improvement in the efficiency of industrial processes and the quality of products that require hot melt.
At present, we are putting all our experience and innovation at the service of an indispensable element for the performance of processes and installations: heated hoses.", declared in the promotional video Javier Aranguren, Managing Director of Focke Meler Gluing Solutions.
A solution for every challenge Arion is the result of the effort of a specialized technical team that works by prioritizing the challenges of its customers whose multiple needs will be surely covered with one of Arion's models. Arion offers solutions to withstand high temperatures like ARION Inferno, or hoses to improve the productivity of installations working with special low-density adhesives and butyls: ARION Power.
Arion is the first specialist to improve performance and efficiency in the industrial adhesive conveying process thanks to its 3FORCE technology, a versatile, efficient and powerful new way to improve results and processes.
The new brand represents a milestone for the hotmelt solutions manufacturing company and it is fully available at http://www.arionhoses.com/.
Featured Product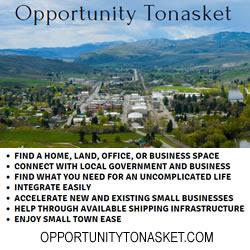 Our primary mission is to promote economic development and growth in the city of Tonasket, WA and surrounding area. This is a group of local citizens sharing a common goal. We wish to assist and promote existing businesses wishing to relocate, local businesses wishing to expand and local individuals wanting to startup a business. Preserving and enhancing the small town and rural lifestyle in a way which benefits everybody and maintains a healthy lifestyle. Opportunity Tonasket was created to be a hub for information and contacts with local city and county agencies, as well as local businesses and real estate connections. Their goal is to connect current and newly relocated individuals and businesses and "plug them in" with the best services, advice and experts in the area. Opportunity Tonasket is like a leg-up, as if one's already had a foothold in the community.