The GT1600 is ideal for low- and high-flow gas and liquid industrial applications where viewing the process is important.
Brooks Instrument, a world leader in advanced flow, pressure and vapor delivery solutions, has added the GT1600 Series of glass tube variable area flowmeters to its industry-leading family of variable area flowmeter products.

Suitable for a wide variety of industries from chemical manufacturing to pharmaceutical production to water treatment and distribution, the GT1600 is ideal for low- and high-flow gas and liquid applications where viewing the process is important.
The rugged flowmeter features high-quality design and materials, such as 316 stainless steel construction and a polycarbonate shield, to ensure safety and longevity for both indoor and outdoor use.
For ease of use, the adjustable, transparent scale improves readability and allows for offset correction to compensate for process variation. In addition, the process connection can be rotated 360 degrees so users can view from all directions. An alarm option is also available for automatic monitoring of critical flow conditions.
Configured for simple installation, the GT1600 is available with a variety of connections to fit existing piping arrangements or mount to a panel or wall. It can also work as a drop-in retrofit for the Brooks Instrument GT1000, GT1300 and Full-View® 1100 Series of flowmeters, which have been widely used for decades.
The GT1600 is fashioned for easy maintenance. For in-situ cleaning, the glass tube and float can be replaced without removing the flowmeter from the piping, saving time and cost.
"As a pioneer in rotameter and variable area flowmeter technology, Brooks Instrument is always looking for ways to improve its product offering for industrial users," said Peter Trivelli, Variable Area Product Manager, Brooks Instrument. "With decades of experience in the process industries, we combined the best features from our previous products with valuable customer insight to develop a rugged flowmeter that's easy to install and reliable to use."
Visit experience.brooksinstrument.com/gt1600 for additional information and a video about the GT1600 Series glass tube variable area flowmeters.
About Brooks Instrument:
Since 1946 Brooks Instrument has been a leader in precision fluid measurement and control technology. Providing instrumentation for flow, pressure and vaporization, the company serves customers in pharmaceutical and biopharmaceuticals, fiber optic and thin film manufacturing, solar cell, LED, alternative energy, oil and gas refining, chemical and petrochemical research, and semiconductor manufacturing.
With manufacturing, sales, and service locations in the Americas, Europe and Asia, Brooks Instrument has the world's largest installed base of mass flow controllers. Its broad family of products includes legacy brands such as UNIT Instruments, Tylan, Key Instruments and Celerity.
For more information, please visit www.BrooksInstrument.com. The company is also on LinkedIn (www.linkedin.com/company/Brooks-Instrument) and YouTube (www.youtube.com/user/Brooks407).
Featured Product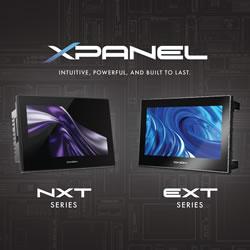 CIMON-XPANEL is a Windows CE based HMI unit. A combination of software and hardware, suitable for various monitoring needs within industrial sites.