Company provides immediate access to the most complete NEW heavy duty offering available
Miramar, FL -WAI continues to relentlessly meet the ever-changing needs of their customers in the heavy duty market. This includes an unwavering commitment to be "first-to-market" with the latest and most complete coverage for 100% new heavy duty starters. WAI's complete line of starters are ideal for class one to class eight trucks and construction equipment.

WAI starters offer superior field quality. Millions of units have been installed and tested to OEM specifications and include premium brand TRANSPO electronics manufactured by WAI, as well as premium grade WBD bearings. WAI starters boast a high standard of excellence and are tested for RPM, torque, voltage, and solenoid performance. Additionally, validation testing for all products includes endurance, humidity, power thermal cycling, vibration, salt spray and thermal shock. New starters result in warranty rate reduction through extended field life of new units. Computerized test sheets are included in every box.
For more information on starters visit www.waiglobal.com.
###
About WAI
WAI is a premier global parts manufacturer for the automotive, heavy duty, agricultural, industrial, and power sports aftermarket. With world-class parts manufacturing facilities, WAI consistently meets the parts needs of its global customers, under one united goal - to provide customers with the products they need, when they need them. As a leading innovator and premier parts manufacturer, WAI has demonstrated an unwavering commitment to a "first-to-market" strategy and continues to work relentlessly to meet the ever-changing needs of its customers. For more information visit www.waiglobal.com
Featured Product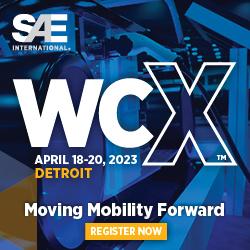 The COMVEC™ Technology Connection is the only North American event that addresses vehicles and equipment spanning the on-highway, off-highway, agricultural, construction, industrial, military and mining sectors. The content for this event is driven by the need to reduce C02 emissions and improve vehicle efficiencies for fuel savings. COMVEC covers the latest and critical need-to-know information impacting global commercial vehicles today and in the future. Make plans to join 850+ technical experts and business leaders for 3 days of professional development in the way of expert-led panel discussions, compelling technical sessions, influential keynotes, world-class networking, and a technology-driven exhibit show floor.