WOBURN, MASS. — Jan. 28, 2020 — SCHNEEBERGER® Inc. will highlight its high-precision MINIRAIL, MINSCALE PLUS, and ball MONORAIL BM linear motion products for medical OEMs and additive manufacturing applications — along with its extensive engineering, production, application, and systems expertise at ATX 2020, booth 4569, Feb. 11-13, at the Anaheim Convention Center in Anaheim, CA.

MINIRAIL
SCHNEEBERGER MINIRAIL profiled miniature guideways provide a high degree of precision, robustness, reliability, and versatility. They are ideal for medical equipment, additive manufacturing, and other applications when space is at a premium — as well as where high acceleration and/or extreme load values are involved. The carriages are easily replaced, so storage easier and maintenance costs. Offered in eight rail widths and four carriage lengths, design engineers can choose between two accuracy and preload classes. With heavy-duty ball recirculation units embedded in the carriages, the MINIRAIL has acceleration values of up to 300 m/s2 and speeds of 5 m/s. They can accommodate extremely high centrifugal forces and are constructed of corrosion-resistant, hardened steel.
MINISCALE PLUS
Responding to the increasing demand for compact integrated solutions, SCHNEEBERGER offers its MINISCALE PLUS 0.1-micron resolution integrated encoder system for its full range of MINIRAIL products. The MINISCALE PLUS is available for all carriage lengths and all rails from 7 mm to 42 mm in width. The sensor of the MINISCALE PLUS is mounted flush to the top of the guideway carriages for quicker, easier system installation. The ability to laser etch the encoder scale the full length of the rail enables the maximization of the measurement area up to a full meter. Measurement is carried out directly during the work process, which considerably reduces Abbe errors, and is available at the MINIRAIL maximum acceleration of 30 g and a maximum speed of 5 m/s. Both digital and analog outputs are available. As a single solution that eliminates the need to install a separate distance measuring system, such as a glass scale or additional components, MINISCALE PLUS offers a cost-effective, compact solution for a wide variety of applications.
Ball Monorail
SCHNEEBERGER MONORAIL BM profiled linear guideways (with balls) deliver maximum precision, increased service life, and require minimal maintenance. All carriages feature longitudinal cross wipers for efficient sealing against dirt and debris.
Systems Expertise
SCHNEEBERGER systems expertise is helping to drive the implementation of new and future innovations in the micro 3D printing revolution for medical technology and additive manufacturing applications. With 30 years of experience in manufacturing precision systems and the widest range of system capabilities with the broadest line of components, SCHNEEBERGER offers extensive engineering, production, application, and systems expertise to assist customers in achieving the highest precision and quality results at the lowest total cost of ownership. Moreover, comprehensive USA-based service and support back all SCHNEEBERGER solutions.
All SCHNEEBERGER solutions to be featured at ATX 2020 are immediately available. For more information, visit SCHNEEBERGER during ATX 2020 at booth 4569. Or, visit www.schneeberger.com or call 1-800-854-6333.
About SCHNEEBERGER Inc.
Founded in Switzerland in 1923, SCHNEEBERGER manufactures high precision linear guideways, including ball, needle and cross-roller bearings, miniature guideways, ball and roller Monorail guideways with integrated linear encoder options and has also become a world-class supplier of multi-axis, linear motion systems to the Semiconductor, Flat Panel, Metrology, Electronics, and Life Science industries. Vertical integration of Mineral cast technology, providing superior damping characteristics compared to traditional granite base and gantry structures, has enabled SCHNEEBERGER to produce platforms that meet customer performance specifications that were previously unachievable. Visit www.schneeberger.com.
Featured Product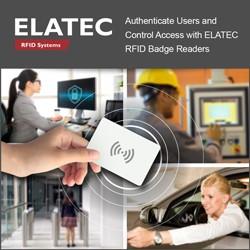 With a tap of the badge, RFID readers from ELATEC provide secure, reliable and easy-to-use user authentication, access control and usage tracking of hardware and software in industrial automation processes. Reader durability in harsh plant floor environments is another essential feature. Choose the right authentication and access control solution and extend RFID card-based capability for the access control of PLC, robot and HMI automation controller software and devices requiring special operator training.