Located in booth 4400, Bosch Rexroth will demonstrate advances in mechatronics, transport systems and Industry 4.0 technology
Presenting an array of advanced assembly technologies from its industry-leading portfolio, Bosch Rexroth will showcase its intelligent, step-by-step approach to building the Factory of the Future in booth 4400 during ATX West, February 11-13, 2020 at the Anaheim Convention Center in Anaheim, CA. The company will have booth exhibits demonstrating a full range of integrated mechatronics concepts and transport systems that can provide scalable technologies on the path to the Factory of the Future.

Come discover how Bosch Rexroth is deploying innovative technology to help manufacturers and assemblers advance the Factory of the Future and Industry 4.0 in their operations — one step at a time.
Bosch Rexroth's goal is to help manufacturers create an effective roadmap to make the best use of Industry 4.0 technology, improving their operations and competitive capabilities.
Once you step into the booth, you will see that Rexroth has organized the exhibits and demonstrations to help manufacturers learn about and step through key points on the journey to the Factory of the Future — whether they're seeking to add digital assistant capabilities to manual production solutions, looking to add modular technology that incorporates new sensors to capture production data or are ready for full i4.0 connectivity across their operations.
Key product highlights in the Rexroth booth will include: Lean Implementation with Aluminum Framing, Technology Integration in Workstations, Data Collection with Mechatronics@Work, Data Analysis and Visualization with IoT Gateway, Monitoring Machine Health with ActiveMover, and Factory-wide Intelligence with Smart Assembly 4.0 Conveyors.
Bosch Rexroth will also display two recently new products during ATX West:
• Smart Function Kit: This new, modular mechatronics package consists of mechanical components, electrical components and software and is immediately ready for use across a wide range of standardized pressing and joining applications. It's a smart, complete solution that simplifies product selection and configuration as well as commissioning.
• GoSelectTM: This new online ordering tool is designed to streamline product selection and make cost quoting a breeze. The user-friendly interface offers pricing and availability on hundreds of products. Users can instantly download CAD drawings which are available in a variety of formats, including PDF3D, STEP, IGES and DXF.
As always, Bosch Rexroth's technology experts will be available in the booth to address specific manufacturing production challenges. With expertise in key manufacturing and assembly issues, such as lean production, motion control, data analytics and automation, they can help manufacturers improve productivity, quality and flexibility and offer smart, scalable steps that companies can take to build their own Factory of the Future.
For more information, go to www.boschrexroth-us.com/atxwest or visit Rexroth at booth 4400 during the show.
About Bosch Rexroth:
As one of the world's leading suppliers of drive and control technologies, Bosch Rexroth ensures efficient, powerful and safe movement in machines and systems of any size. The company bundles global application experience in the market segments of Mobile Applications, Machinery Applications and Engineering, and Factory Automation. With its intelligent components, customized system solutions and services, Bosch Rexroth is creating the necessary environment for fully connected applications. Bosch Rexroth offers its customers hydraulics, electric drive and control technology, gear technology and linear motion and assembly technology, including software and interfaces to the Internet of Things. With locations in over 80 countries, more than 32,300 associates generated sales revenue of roughly 6.2 billion euros ($7.3 billion) in 2018.
To learn more, please visit www.boschrexroth-us.com.
About Bosch:
The Bosch Group is a leading global supplier of technology and services. It employs roughly 410,000 associates worldwide (as of December 31, 2018). According to preliminary figures, the company generated sales from operations of 77.9 billion euros ($92 billion) in 2018. Its operations are divided into four business sectors: Mobility Solutions, Industrial Technology, Consumer Goods, and Energy and Building Technology. As a leading IoT company, Bosch offers innovative solutions for smart homes, smart cities, connected mobility, and connected manufacturing. It uses its expertise in sensor technology, software, and services, as well as its own IoT cloud, to offer its customers connected, cross-domain solutions from a single source. The Bosch Group's strategic objective is to deliver innovations for a connected life. Bosch improves quality of life worldwide with products and services that are innovative and spark enthusiasm. In short, Bosch creates technology that is "Invented for life." The Bosch Group comprises Robert Bosch GmbH and its roughly 440 subsidiary and regional companies in 60 countries. Including sales and service partners, Bosch's global manufacturing, engineering, and sales network covers nearly every country in the world. The basis for the company's future growth is its innovative strength. At 125 locations across the globe, Bosch employs some 69,500 associates in research and development.
Additional information is available online at www.bosch.com, www.iot.bosch.com, www.bosch-press.com, www.twitter.com/BoschPresse.
Featured Product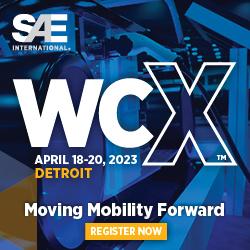 The largest technical mobility event in North America returns to Detroit from April 18-20, 2023. Join thousands of engineers, executives, suppliers, academics and R&D professionals for WCX™ World Congress Experience to exchange ideas, discuss today's challenges, and build powerful relationships to move your career and the mobility industry forward. Register today at sae.org/wcx.