At the show, September 16-21, in Hannover, Germany, PCI presented three e-SPINDLE applications that showcased smart machining technology.
[LORAIN, OH - October 2019] Absolute Machine Tools partner PCI SCEMM (a Tongtai company) recently introduced the e-SPINDLE at EMO 2019, a new electro-spindle that integrates sensors and actuators to monitor cutting processes and adjust parameters to optimize tool life and workpiece quality.

At the show, September 16-21, in Hannover, Germany, PCI presented three e-SPINDLE applications that showcased smart machining technology. One toolholder demonstration highlighted real-time monitoring of cutting process variables including force, vibration, and coolant pressure. An adaptive drilling application illustrated the benefits of ongoing vibration control. And a honing toolholder operation featured integrated measurement of workpiece diameter to permit continual control of abrasive honing tooling.
PCI developed e-SPINDLE technology in France in collaboration with the Technical Centre for Mechanical Industry (Cetim) and the Aix-en-Provence campus of the French Arts et Métiers engineering and research graduate school.
Absolute Machine Tools president Steve Ortner said, "e-SPINDLE technology from PCI is another way Absolute Machine Tools enables its customers to participate fully in smart manufacturing, the IIoT, and Industry 4.0."
For more information browse www.absolutemachine.com or call 800-852-7825.
About Absolute Machine Tools, Inc.
Absolute Machine Tools, Inc. sells and supports Johnford Bridge & Gantry Mills; You Ji Vertical Turret Lathes; Tongtai Horizontal Machining Centers (former Hitachi-Seiki OEM); PCI Horizontal Machining Centers; Quicktech Multi-Axis Multi-Spindle Mill/Turn Centers; Lico Multi-Slide CNC Screw Machines and Twin Spindle Multi-Slide Mill/Turn Centers; Nexturn Swiss-type Lathes; AccuteX Wire EDM and Die Sinker Machines; APEC 5-axis Gantry-style Linear Motor Machining Centers; and Precihole Gundrilling Machines. The company has worked with several of its principal machine tool partners for over 25 years to offer some of the most heavy-duty, accurate, and productive machines in the industry. The company has built its reputation on exemplary applications engineering, service, customer support, comprehensive training, and effective preventive-maintenance programs. In addition to its headquarters in Lorain, Ohio, the company has established direct full-service technical centers in Mason, Ohio; Livonia, Michigan; and Rockford, IL. For more information, contact Absolute Machine Tools, Inc. at 800-852-7825 or www.absolutemachine.com.
Featured Product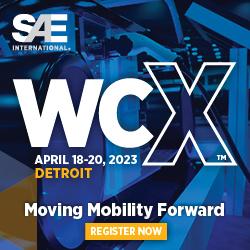 The COMVEC™ Technology Connection is the only North American event that addresses vehicles and equipment spanning the on-highway, off-highway, agricultural, construction, industrial, military and mining sectors. The content for this event is driven by the need to reduce C02 emissions and improve vehicle efficiencies for fuel savings. COMVEC covers the latest and critical need-to-know information impacting global commercial vehicles today and in the future. Make plans to join 850+ technical experts and business leaders for 3 days of professional development in the way of expert-led panel discussions, compelling technical sessions, influential keynotes, world-class networking, and a technology-driven exhibit show floor.