eFlex's three-tiered program integrates and classifies companies that join under the Complement Partner, Device and Tooling Partner or the Channel Partner.
ROCHERSTER HILLS, Mi.- July 29, 2019 - eFlex Systems, a recognized industry leader in the design and implementation of advanced technology, process control and digital solutions for the global manufacturing industry, is pleased to announce the expansion of their Partner Program to respond to enormous customer growth and demand - welcoming Brevity at Work and item America as two of their newest partners.

"It is our pleasure to welcome these two top companies into our expanded Partner Program, allowing us to connect on a mutually strategic level to collaborate, innovate and grow together", said Dan McKiernan, eFlex President. "Offering this program is critical to our company promise in offering our customers the flexibility and efficiency to realize sustainable, world-class manufacturing and digital initiatives."
eFlex's three-tiered program integrates and classifies companies that join under the Complement Partner, Device and Tooling Partner or the Channel Partner. Brevity at Work LLC joins as a Complementary Partner and will provide complementary services for eFlex customers in the development and training of standardized work instructions, operating procedures, and best practices that accelerate digital initiative success rates.
"As a 20-year specialist in visual work instructions, in both document and digital formats, I decided to partner with eFlex Systems because I found there to be no equal in terms of marrying bold, visual, step-by-step instructions with Industry 4.0 process-automation and data-collection," said Terry Guire, Founder of Brevity at Work. "Since JEM enables dynamic display of different work instructions based upon the model, component, event or condition-such as passing or failing a quality test-it has the versatility needed for most industry situations, being the closest thing there is to replacing much (if not all) manufacturing documents," Guire added. "And in many cases, JEM = SOP + SWI + training + work order/product traveler."
This tool is especially powerful if one learns how to write work instructions that communicates best practices with concise language and excellent visuals. Brevity at Work has tailored a Work Instruction Coaching Program for eFlex, so its clients can write work instructions that have maximum impact on mastering tasks quickly while preventing costly errors.
item America LLC, a global market leader in building kit systems, joins as a Complement Partner, combining their world-class workstations with eFlex's digital manufacturing application to bring forth the turn-key Industry 4.0 Smart Station.
"We are excited to present our qualified customers the new Industry 4.0 Smart Station through our joint partnership with item America," said McKeirnan. "This will provide a cost effective, turn-key solution to accelerate implementation and get started with digital initiatives. The drop-in Smart Station will also be ideal for advanced manufacturing, innovation and training labs, and continuous improvement areas that are looking to get started quickly."
"item America is proud to partner with eFlex Systems and take an active part in supporting manufacturing companies through improving their quality and efficiency," said Germain Dufosse, CEO of item America.
The eFlex Partner Program's Device and Tooling Partners, companies who manufacture connected devices, sensors, vision systems, cobots, fastening controllers, etc., have access to eFlex's Manufacturing Platform which allows engineers to integrate, connect and enable smart devices - all without programming. Channel Partners, which are typically regional resellers, consulting/solution providers or value-added distributors, can grow and scale their business by selling, supporting or educating customers on eFlex products and Industry 4.0 solutions. To learn more about eFlex Systems, the Partner Program or how to join, visit www.eflexsystems.com.
About eFlex Systems
eFlex Systems (www.eflexsystems.com) is a recognized industry leader in the design and implementation of advanced technology and digital solutions for the manufacturing and information technology markets. Developed and refined in the most sophisticated and demanding manufacturing environments in the world, eFlex's scalable platform of tools and technology delivers dramatic results for manufacturers globally. Follow on Twitter @eFlexSystems.
Featured Product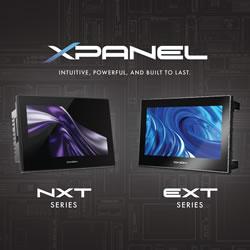 Introducing the Xpanel eXT and nXT series, advanced industrial HMI solutions that set a new standard for performance and usability. Utilizing our brand new Canvas HMI software for project creation, the Xpanel eXT and nXT series deliver a seamless and efficient user experience. They combine industrial-grade touch technology, powerful embedded OS hardware with a quad-core CPU, and an easy-to-use runtime platform. The Xpanel eXT and nXT series are specifically designed to optimize and streamline industrial operations, enhancing your HMI experience.