Having all repair parts on hand reduces liability, costs, and downtime
TAMPA, FL - CIRCOR Industrial Valves, a leader in designing and manufacturing flow control technologies, introduces the convenient and cost-effective CIRCOR Aftermarket Kits Program. Trim, hardware, actuation, and soft good kits provide maintenance technicians a full set of necessary parts for repairs on any portion of a valve.

A single valve repair can cost thousands of dollars if one includes the cost of electricians, plumbers, welders, cranes, and NDT inspections, not to mention downtime. That is why efficient maintenance teams try to do the most they can whenever a valve undergoes service. Instead of a lone valve part, the CIRCOR Aftermarket Kits Program supplies complete groupings of parts for one of the four principle areas of a valve's construction. With a kit, all applicable parts will be on hand during each repair, so parts with the potential to fail, or approaching decline or end of life can be repaired or replaced in one service event with the failing parts. In fact, there is no need to identify the part at issue before commencing a repair; simply order a kit, and the right part will be included.
The CIRCOR Aftermarket Kits Program allows technicians to replace entire sections of the valve all at once instead of piecemeal. This minimizes the potential for a valve malfunction due to an incomplete repair, and the potential liability of a valve failure after not all recommended parts were cycled out.
The CIRCOR Aftermarket Kits Program offers maintenance personnel everything needed to groom valves to CIRCOR's manufacturer recommendations during each repair or maintenance cycle. Using a CIRCOR certified kit results in extended operation, which means the entire investment in repairs can often be recouped.
In addition to providing expert applications engineer consultations to ensure customers receive the correct parts for the repair, CIRCOR offers repairs from CIRCOR-certified technicians.
For more information about the CIRCOR Aftermarket Kits Program, visit www.circor.com.
###
About CIRCOR International, Inc.
CIRCOR International, Inc. designs, manufactures and markets differentiated technology products and sub-systems for markets including oil & gas, industrial, aerospace & defense and commercial marine. CIRCOR has a diversified flow and motion control product portfolio with recognized, market-leading brands that fulfill its customers' mission critical needs. The company's strategy is to grow organically and through complementary acquisitions; simplify CIRCOR's operations; achieve world class operational excellence; and attract and retain top talent. For more information, visit the company's website at www.circor.com.
Featured Product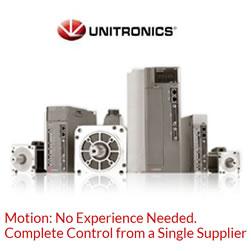 Unitronics' new line of AC Servo Drives & Motors changes the traditional approach to motion control. They are simple to set up and painless to program. Unitronics Servos simplify implementation of motion applications while minimizing complexity and reducing development time. Some of the easy-to-use features in this new line include implementing motion control easily with ready-made motion code, embedded diagnostic tools, and automatic communication setup.