Highlighting of the World's First Monitoring Feedback and Shielding Functions
Mitsubishi Heavy Industries Machine Tool Co., Ltd., a group company of Mitsubishi Heavy Industries, Ltd. (MHI)(TOKYO:7011) based in Ritto, Shiga Prefecture, is set to begin overseas marketing of its 3D (three-dimensional) printer using its proprietary Directed Energy Deposition (DED) process.1 The aim is to enhance recognition and gain a foothold in the United States, which is driving the rapidly growing global market for 3D printing. As a first step, MHI Machine Tool will attend RAPID + TCT 2019, a trade fair for advanced additive manufacturing technologies, held from May 20-23 in Detroit, in order to showcase its new technologies essential for the practical application of metal 3D printing, along with the monitoring feedback and local shielding functions. These latter two functions are the world's first practical applications of new technology.

This metal 3D printer was developed by MHI Machine Tool based on the results from a technology development project2 conducted by the Technology Research Association for Future Additive Manufacturing (TRAFAM), commissioned by the New Energy and Industrial Technology Development Organization (NEDO). The entry model "LAMDA 200," specific for the manufacture of small prototype components, was launched in March 2019. In the proprietary DED process, powder is continually injected from a nozzle, then melted and solidified by laser irradiation. Compared to the powder bed fusion (PBF) process, in which material is formed by rolling out and filling the metal powder in a tank (bed), molding speed is more than 10 times faster, and with the elimination of the tank for the metal powder, DED allows for the manufacture of larger objects not possible with PBF. Further, the continuous supply of material eliminates the need to switch materials during the molding process, allowing for the forming of composite material components from numerous different metal powders. Going forward, this process is expected to be applied for the development of functionally gradient materials joining together components made of different materials. Along with this technology, MHI Machine Tool is on the verge of achieving practical application of monitoring feedback and local shielding functions, which will enhance the stability of molding quality and allow for the formation of large components.
Specifically, the monitoring function is a system that uses a camera and sensors to monitor the printing status. The feedback function then utilizes the monitoring results to control the laser output and other printing conditions in real time, stabilizing the melting and solidification of the metal. Previously, the optimal printing conditions for different shape were determined through trial and error. The monitoring and feedback function optimizes the printing conditions automatically, eliminating the need for trial and error. The shielding function removes oxygen from the ambient environment around the nozzle during DED process, preventing oxidation of the melted metal. The local shielding function allows for printing of materials such as titanium and aluminum, which are averse to oxidation, in an air environment without the use of a chamber. Use of these functions also eliminates the restrictions on the size of 3D printing objects, making the system applicable for the manufacture of larger components, which has been an issue in such industries as aerospace. MHI Machine Tool will present the development results of its monitoring feedback and local shielding functions at RAPID + TCT 2019.
Demand for high-performance components made from a variety of materials is projected to increase worldwide, particularly in such industries as aerospace, where components are continually being made lighter, and the automotive industry, which continually demands cutting-edge technologies. MHI Machine Tool is resolving the issues with practical application of metal 3D printing, and going forward, through proposals for formation processes for high-performance materials, will focus on raising awareness and uncovering demand for metal 3D printing. With the new approach of metal additive manufacturing, we will broaden the scope of manufacturing that has reached the limits of conventional cutting and grinding processing technologies.
Notes
*1:
Directed Energy Deposition (DED) is an additive manufacturing process in which focused thermal energy is used to melt and fuse material.
*2:
The new 3D printer applies the results of the development project funded by the New Energy and Industrial Technology Development Organization (NEDO).
About Mitsubishi Heavy Industries Group
Mitsubishi Heavy Industries, Ltd. (MHI), headquartered in Tokyo, is one of the world's leading industrial firms with 80,000 group employees and annual consolidated revenues of around 38 billion U.S. dollars. For more than 130 years, the company has channeled big thinking into innovative and integrated solutions that move the world forward. MHI owns a unique business portfolio covering land, sea, sky and even space. MHI delivers innovative and integrated solutions across a wide range of industries from commercial aviation and transportation to power plants and gas turbines, and from machinery and infrastructure to integrated defense and space systems.
For more information, please visit MHI's website: www.mhi.com/index.html
For Technology, Trends and Tangents, visit MHI's new online media SPECTRA: spectra.mhi.com
Featured Product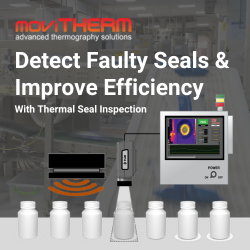 MoviTHERM's Thermal Seal Inspection (TSI) solution provides precise and reliable detection of defects in a variety of packaging types, including pouches, bags, blister packs, bottle caps, and more. By detecting defects in your packages, the TSI solution helps increase efficiency in your production line and ensures top-quality packaging is delivered to your customers every time. With state-of-the-art technology and an experienced team, MoviTHERM is dedicated to delivering accurate inspection solutions and peace of mind to its clients. Contact MoviTHERM today to learn more about their thermal seal inspection solution.