Company R&D Programs Manager to present on high-performance materials for 3D printing on May 23 at 10:15 a.m. EDT.
WILMINGTON, Del., April 15, 2019 - DuPont Transportation & Advanced Polymers, a global business unit of DowDuPont Specialty Products Division, will introduce several advanced new semi-crystalline materials at RAPID + TCT 2019 (booth #552), significantly expanding its 3D printing portfolio. These high-performance materials will offer customers greater manufacturing agility by enabling a seamless transition across different 3D printing scenarios while maintaining consistent properties. They will also open new opportunities to scale up and accelerate production while reducing costs.

Jennifer L. Thompson, Ph.D., R&D programs manager for DuPont Transportation & Advanced Polymers, will present a technical paper on these new materials during the RAPID + TCT conference. Her presentation, titled "High Performance Materials for 3D Printing" will take place on Thursday, May 23, at 10:15 a.m. EDT as part of the Material Development and Characterization session. Thompson will highlight new engineering materials for industrial use, describe alternative 3D printing methods such as pellet extrusion modeling and discuss tailored testing programs for printing materials.
At its booth, DuPont will exhibit automotive ducts and structural components, and a variety of other 3D-printed parts showcasing the diversity and capabilities of its new materials.
RAPID + TCT 2019 will be held at the Cobo Center in Detroit, Mich., from May 21-23. Thompson and other members of the DuPont team will be available during the conference to answer questions about the company's fast-growing portfolio of materials for 3D printing.
About DuPont Transportation & Advanced Polymers (DuPont)
DuPont Transportation & Advanced Polymers (T&AP), a DowDuPont Specialty Products Division
business, delivers a broad range of technology-based products and solutions to the transportation,
electronics, industrial and consumer markets. T&AP partners with its customers to drive innovation
by utilizing its expertise and knowledge in polymer and materials science. T&AP works with
customers throughout the value chain to enable material systems solutions for demanding
applications and environments. For additional information about DuPont Transportation & Advanced
Polymers, visit plastics.dupont.com.
About DowDuPont Specialty Products Division
DowDuPont Specialty Products, a division of DowDuPont (NYSE: DWDP), is a global innovation
leader with technology-based materials, ingredients and solutions that help transform industries and
everyday life. Our employees apply diverse science and expertise to help customers advance their
best ideas and deliver essential innovations in key markets including electronics, transportation,
building and construction, health and wellness, food and worker safety. DowDuPont intends to
separate the Specialty Products Division, which will be called DuPont, into an independent, publicly
traded company. More information can be found at www.dow-dupont.com.
Featured Product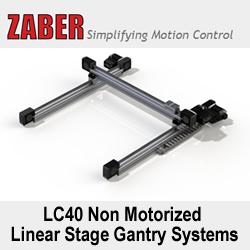 A Zaber gantry kit comes with everything you need to build a customized XY gantry system or XYZ gantry system. These gantry systems feature coordinated multi-axis motion, plug-and-play operation, easy integration with end-effector options, and built-in IO and E-Stop capabilities. An intuitive ASCII interface allows the user to easily communicate with the gantry systems using our free software, either Zaber Motion Library with APIs for several popular languages or Zaber Console. Third party terminal programs that can communicate over a serial port can also be used.