Locix SmartDock™ enables comprehensive visibility into the warehouse dock to increase efficiency, reduce truck dwell time, increase worker productivity and asset utilization, to dramatically improve warehouse and logistics operations.
Locix, next-generation innovator in the scalable collection and analysis of unique and actionable data for autonomous buildings, today launched its SmartDock™ solution that digitizes the warehouse dock through visual and sensor data and advanced analytics. Locix SmartDock™ enables comprehensive visibility into the warehouse dock to increase efficiency, reduce truck dwell time, increase worker productivity and asset utilization, to dramatically improve warehouse and logistics operations.

In the United States alone, the US government estimates lost productivity from loading dock inefficiencies costs the logistics and distribution industry billions of dollars annually. As the sole point where goods enter or exit a modern distribution center, the loading dock is a critical bottleneck as warehouse operators attempt to align resources with truck arrivals in today's time-sensitive supply chain network. Increasing insight and visibility into the loading dock will be a key driver in IoT solution spending, which Forrester estimates to reach over $110 billion per year by 2023 in the supply chain and logistics market alone.
Dwell time is a major operational problem that most managers intuitively recognize, but they often lack visibility into the total impact it has on overall warehouse operations. Aimed primarily at high turnover, resource-limited warehouses and distribution centers, SmartDock™ provides real-time insight into the current state of a loading dock, measures efficiency, and creates visual records of key activity. With SmartDock™, facilities can quantify the impact of dwell time on their business, get insight into the origin for corrective action and enable smarter decision making.
The SmartDock™ solution leverages Locix's patented HD Vision Sensor platform to cost-effectively collect visual and sensor data from the loading dock's interior and exterior without the extensive installation and high infrastructure costs of competing solutions. Combining this unique data with cloud-based, state of the art machine learning and data analytics, SmartDock™ provides unprecedented, real-time visibility into dock status and generates alerts and reporting around the specific causes of increased dwell time and dock level inefficiency.
"Our customers are looking for increased efficiency at the dock in distribution centers," according to Mike Yamada, President, Prologis Japan. "Locix allows us to offer them an easy to deploy and cost-effective solution to digitize the entire dock - both externally and internally - significantly increasing dock visibility, reducing dwell time, and maximizing productivity and efficiency."
Locix's SmartDock™ solution supports tactical minute-by-minute operational decision making, while also tracking longer term trends and statistics across docks all over the warehouse. Warehouse operators, management and truck drivers will benefit from the SmartDock™ solution, including:
Full visibility, alerting, and reporting on dock activity - inside and outside
Current, total, and average dwell time monitoring per dock and per distribution center
Reduced turnaround and detention times
Increased dock scheduling accuracy
Smarter logistics contracts with tighter windows and turnaround times
Optimized and better-informed workforce scheduling and asset utilization
"With acceleration of economic globalization and new customer needs, there is increasing demand for new value beyond quality and cost competitiveness," said Katsuya Okihiro, President and CEO, Sumisho Global Logistics. "Locix's innovative SmartDock™ solution enables us to create new value of logistics for our customers."
"Warehouse operations start and end at the loading dock; distributors that fail to optimize their docks will suffer from productivity and efficiency challenges caused by logistics bottlenecks," said Vik Pavate, CEO, Locix. "Digitizing the entirety of a warehouse through accurate and real-time contextual, visual, and spatial data allows our customers to overcome operational challenges and automate decision making, while leveraging reliable technology that isn't cost prohibitive."
SmartDock™ will be generally available to end-users through the Locix Partner Network at the end of April. For more information on SmartDock™ and local partners, contact sales@locix.com.
To learn more about Locix's SmartDock™, visit Locix's booth #N6859 in the Emerging Technologies Solution Center at Promat 2019, or in Murata's booth #18-34 at IoT/M2M Expo in West Hall 3, or visit the Locix website here.
About Locix
Locix develops revolutionary solutions to uniquely capture spatial, visual and sensor data — providing contextual awareness to buildings, homes and connected devices, digitizing the physical world. Combined with advanced data analytics, Locix solutions enable actionable insights for automated decision-making. Based in Silicon Valley, Locix is backed by leading venture and strategic investors including ID Ventures, University of Tokyo Edge Capital, Murata Manufacturing, NTT Docomo Ventures, Sumitomo Corporation of Americas, iRobot Corp., YE Digital, Yaskawa Electric Corporation and Acer Inc.
Featured Product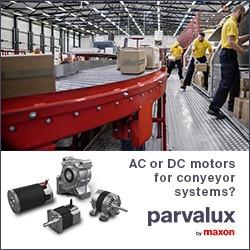 British-made Parvalux geared motors are used in a huge range of industrial applications in almost 80 countries. We manufacture conveyor belt motors, automatic shutter motors, packaging motors and much more. When you need reliable operation, you can trust Parvalux to safely power your application.