DSM takes next steps to accelerate the adoption of 3D printing and to instill a focus on sustainability in the additive manufacturing industry
Geleen, the Netherlands, 28 March, 2019 - Royal DSM, a global science-based company in Nutrition, Health and Sustainable Living, and diamond sponsor of the annual AMUG conference of the 3D printing industry in Chicago, today unveils its program for the show, which exemplifies its ecosystem and partnership vision and strong sustainability ambitions.

Hugo da Silva, VP of Additive Manufacturing at DSM: "Tomorrow, the entire manufacturing industry should see AM as a viable route to sustainable production. This requires an accelerated adoption of AM technology. At DSM we are looking at all options to support this development. We are moving quickly to introduce new materials and collaborate with partners as and where possible."
At AMUG, DSM will be announcing a beta version of its new PBT powder product for 3D printing. This is the first powder for 3D printing from the science-based materials group, and is the first ever PBT powder to be made commercially available for SLS printing processes. For DSM it is the first material developed from their technology platform of new powders - which they want to co-develop with customers so as to ensure it meets market and application needs.
Hugo da Silva of DSM: "Our prime ambition is to unleash the full potential of additive manufacturing and to increase adoption in the manufacturing industry. That is why we are proud to announce the first beta PBT powder of our technology platform in co-development with the market. The final outcome will suit the needs of our customers even better."
Known for its ecosystem approach to the additive manufacturing industry, DSM is taking further steps to increase collaboration in the industry as a way to accelerate adoption of AM technology. It recently announced partnerships with JuggerBot 3D, Adaptive3D, Fortify and Chromatic.
Hugo da Silva: "At DSM, we like to offer our customers choices; and as we cannot do everything ourselves, we are always on the lookout for new partnerships. This is exactly how the 3D printing ecosystem matures further. Some of our partners (such as printer manufacturers) play elsewhere in the value chain while others are materials companies. They help us bring an expanded portfolio to our customers - exemplified by our ventures with Adaptive3D (DLP) and Chromatic 3D (Thermoset 2K Extrusion) anda partnership with Fortify (DLP)."
Finally, poised to have a prominent presence at AMUG 2019, DSM's thought leaders will be visible throughout the show via numerous speaking slots in the program.
By way of example: Hugo da Silva, VP of Additive Manufacturing at DSM will shed more light on why 3D printing needs to be sustainable as of day one, during a session on Monday.
Jill Cohen, Global Director Marketing and Sales for Additive Manufacturing at DSM will moderate a panel on Wednesday with representatives from the ecosystem on how to build that ecosystem further so as to increase the adoption of additive manufacturing.
More information on the practicalities of DSM's program at AMUG 2019 is provided below.
DSM Show Program @ AMUG 2019
Venue: booth D18 - AMUG EXPO; DSM Conference Suite 4J
Sunday, 31 March - 6:00-10:00 PM & Monday, 1 April 10:00 AM-12:00 noon
• Introduction of the new PBT powder platform
• Meet DSM's business leaders & team
• Exhibition of demo applications of DSM materials & expanded portfolio
Monday, 1 April
Presentation by Hugo da Silva (DSM): "Sustainable Manufacturing - No Longer a Dream With 3D Printing"
• 1.30-2.30 PM - Wilford A/B, Hilton Chicago
• Subject: "Additive manufacturing (AM) is quickly evolving from a prototyping technology into a mainstream manufacturing process. As the industry gathers momentum, it is presented with a huge opportunity to make AM sustainable from day one.
• We have a historic window to develop, from the beginning, new materials that are recyclable, reusable and/or bio-degradable or bio-based. Investing in solutions where plastics can be 3D printed into usable applications fits perfectly with the intrinsically sustainable nature of AM as a production process. Using only what is needed to build layer by layer, it reduces scrap and waste. As it can be done locally, it has the potential to reduce carbon emissions substantially by shortening the supply chain.
• DSM invites AM industry players to partner in addressing this ambition - now."
In-suite presentation by Walter Voit (Adaptive3D)
• 3:00-4:00 PM - DSM suite 4J
• Subject: "Adaptive3D and DSM AM Partner to Bring Photopolymer Resins to Market to Enable Tough, Strain-Tolerant Rubbers and Elastomers"
In-suite presentation by Joseph Crabtree (AM Technologies)
• 4-5 PM - DSM suite 4J
• Subject: "Smart to Finish (Fully Automated Surface Finishing & Property Enhancement of AM Parts)"
Tuesday, 2 April
In-suite presentation by Bas de Jong (Ultimaker) & Noud Steffens (DSM)
• 10.30-11.30 AM - DSM suite 4J
• Subject: "Ultimaker and DSM AM accelerate the adoption of high performance thermoplastic filaments to produce jigs and fixtures."
In-suite presentation by Greg Costantino (DSM)
• 1.30-2.30 PM - DSM suite 4J
• Subject: "High Performance Filaments for Automotive Spare Parts"
In-suite presentation by Cora Leibig (Chromatic 3D)
• 2.30-3 PM - DSM suite 4J
• Subject: "Partnershipbetween Chromatic 3D Materials and DSM AM develop first printable industrial polyurethanes"
DSM Learning Lab #1 by Greg Costantinto (DSM)
• 3:00-4:00 PM - Salon C, Space C1 and C2
• Subject: "Predictive Modelling"
Wednesday, 3 April
In-suite presentation by Dan Fernback & Zac DiVencenzo (JuggerBot 3D)
• 1.30-2.30 PM - DSM suite 4J
• Subject: "Opportunities and challenges of 3D printed tooling in production programs"
In-suite presentation by Pieter Leen (DSM)
• 3:00-4:00 PM - DSM suite 4J
• Subject: "Rapid tooling solutions to increase product development speed and optimize manufacturing processes."
DSM Panel Discussion led by Jill Cohen (DSM) "The Additive Manufacturing Ecosystem Shapes Sustainable Manufacturing"
• 4.30-5.30 PM - Wilford C, Hilton Chicago
• Subject: "DSM will moderate a panel of speakers representative of the additive manufacturing ecosystem to share views and ideas on how to facilitate and accelerate the adoption of Additive Manufacturing innovation."
Thursday, 4 April
In-suite presentation by Jasper van Dieten (DSM)
• 10.30-11.30 AM - DSM suite 4J
• Subject: "Qualification of Materials for medical applications"
DSM Learning Lab #2 by John Schaefer (DSM)
• 1.30-2.30 PM - Salon C, Space 1 & Space 2
DSM - Bright Science. Brighter Living.™
Royal DSM is a global purpose-led, science-based company in Nutrition, Health and Sustainable Living. DSM's purpose is to create brighter lives for all. DSM addresses with its products and solutions some of the world's biggest challenges whilst creating simultaneously economic-, environmental- and societal value for all its stakeholders; customers, employees, shareholders, and society-at-large. DSM delivers innovative solutions for human nutrition, animal nutrition, personal care and aroma, medical devices, green products and applications, and new mobility and connectivity. DSM and its associated companies deliver annual net sales of about €10 billion with approximately 23,000 employees. The company was founded in 1902 and is listed on Euronext Amsterdam. More information can be found at www.dsm.com.
Featured Product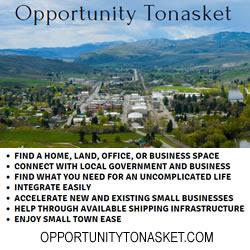 Our primary mission is to promote economic development and growth in the city of Tonasket, WA and surrounding area. This is a group of local citizens sharing a common goal. We wish to assist and promote existing businesses wishing to relocate, local businesses wishing to expand and local individuals wanting to startup a business. Preserving and enhancing the small town and rural lifestyle in a way which benefits everybody and maintains a healthy lifestyle. Opportunity Tonasket was created to be a hub for information and contacts with local city and county agencies, as well as local businesses and real estate connections. Their goal is to connect current and newly relocated individuals and businesses and "plug them in" with the best services, advice and experts in the area. Opportunity Tonasket is like a leg-up, as if one's already had a foothold in the community.