Leading nano-precision motion control specialist ALIO INDUSTRIES exhibits at AUTOMATE 2019 and demonstrates best-in-class industry solutions.
ALIO Industries, Inc., the world's leading provider of nano-precision and repeatable motion control solutions is exhibiting on booth 8744 at the upcoming AUTOMATE show, Chicago, IL, USA 08-11 April 2019.

Through partnership and collaboration with its customers, ALIO Industries consistently provides cost-effective and timely nano-precise motion control solutions for the most exacting applications. The company is synonymous with accuracy and innovation in nano-precision motion control solutions, and is driven by a peerless team of exceptional engineers that have an obsessive focus on nanometer-level motion control, customer success, and pushing the boundaries of what is perceived as possible.
CEO Bill Hennessey says. "ALIO Industries is delighted to be showcasing its extensive array of motion control solutions at the AUTOMATE show. ALIO has built its reputation by taking on and succeeding with projects and applications that other motion control suppliers decline. We project a compelling image — and one that our competitors struggle to equal — which is built upon a solid foundation of honesty, integrity, and passion."
ALIO has an 18-year history working at the vanguard of nano-precision motion control, which is unique in the sector. In 2001, the company started life building the piezo hexapod, a product with unrivalled precision that at the time it was thought impossible to build. From that day to this, ALIO Industries has consistently pushed the boundaries in the achievement of precision in motion control.
ALIO Industries offers a high-end boutique-like service, with a strong emphasis on responsiveness to its customers, and has always been focussed on nano precision, leading to a reputation, a knowledge base, and a level of stability that cannot be matched when nano-precise and reliable motion control is demanded.
Hennessey continues. "At the AUTOMATE show, we invite all companies that are working in areas of manufacturing where nanometer tolerances are the norm to come and see what we have to offer. When working on applications where repeatable nano-precision is vital, customers require a level of expertise and service that mitigates risk and maximises commercially successful outcomes. At ALIO, we only work with customers when we can guarantee success, and we never sell motion control solutions that will produce sub-optimal results."
ALIO's profile is perfectly aligned with what forward-looking companies require in the area of motion control. The company supports a wide range of features and performance, and its in-house design, engineering, assembly, and metrology services mean customers are guaranteed optimal motion control solutions.
ALIO Industries advocates a collaborative partnership relationship with its customers to ensure optimal outcomes, and represents a robust, well-established, financially stable, globally recognised and respected brand serving a diverse base of industry leading OEMs. The company is an undisputed market-leader in the area of nano-precision motion control solutions with a peerless reputation based on quality, precision, and customer focus.
To find out more, the ALIO Industries team will be on-site at AUTOMATE 2019 to discuss you specific requirements and demonstrate its market-leading motion control solutions which can be customised to the specifics of any application.
ABOUT ALIO INDUSTRIES
ALIO Industries is based in Arvada, Colorado, USA, and since 2001 has been an innovator in nano technology motions systems. The company is synonymous with high performance and quality, and represents the gold standard for leading-edge motion control products. ALIO is also the first motion control technology provider to have a three-year warranty on all its products.
ALIO CONTACT
Walter Silvesky,
Vice President of Sales
t. +1 303-339-7500
e. walter.silvesky@alioindustries.com
w. www.alioindustries.com
Featured Product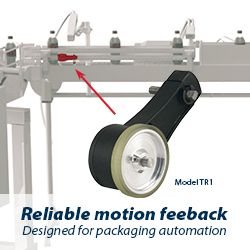 The Model TR1 Tru-Trac™ linear measurement solution is a versatile option for tracking velocity, position, or distance over a wide variety of surfaces. An integrated encoder, measuring wheel, and spring-loaded torsion arm in one, compact unit, the Model TR1 is easy to install. The spring-loaded torsion arm offers adjustable torsion load, allowing the Model TR1 to be mounted in almost any orientation - even upside-down. The threaded shaft on the pivot axis is field reversible, providing mounting access from either side. With operating speeds up to 3000 feet per minute, a wide variety of configuration options - including multiple wheel material options - and a housing made from a durable, conductive composite material that minimizes static buildup, the Model TR1 Tru-Trac™ is the ideal solution for countless applications.