Experts to demonstrate a variety of products ideal for food processing applications
Beverly, MA: KROHNE, Inc. announces that it will be exhibiting products for food and beverage production at the Food Processing Expo 2019, booth 606, taking place February 12-13, 2019 in Sacramento, California. On display from KROHNE will be the OPTIMASS 1000 Coriolis Mass Flowmeter, OPTIFLUX 6300 Electromagnetic Flowmeter, OPTISWITCH 3500 Vibration Level Switch, and OPTISWIRL 4200 Vortex Flowmeters.

The OPTIMASS 1000 is an innovative straight tube mass flow meter featuring twin measuring tubes. The meter is easy to drain and clean, and provides resistance to installation and process effects. Providing superior accuracy, this flowmeter features an optimized flow divider for minimum pressure loss.
KROHNE's OPTIFLUX 6300 is an electromagnetic flowmeter (EMF) for advanced hygienic applications in the food sector. The high-end flowmeter is particularly suitable for blending, dosing or filling applications where a high accuracy (±0.2% of measured value) is priority and extensive diagnostics are required. In addition, it can even be used for low conductivity liquids of ≥1 μS/cm (e.g. glucose, fruit concentrates). The 3A and EHEDG certified flowmeter comes with industry specific installation lengths. It has no crevices, gaps or blind spots and is specifically designed to stay clean and sterile. As a result, it complies with the most stringent demands in the food and beverage industry.
The OPTISWITCH 3500 Vibration Level Switch enables point level detection of liquids and solids, with insertion lengths of up to 6 m / 19 ft (liquids) or 80 m / 262 ft (solids). This switch is insensitive to changes of media properties, such as density, dielectric constant (εr) or electrical conductivity. It is ideal for high/low level detection, dry-run and overfill prevention even in highly critical applications (SIL) or hygienic environments.
KROHNE's OPTISWIRL 4200 vortex flowmeter is ideal for advanced energy management systems. Used to measure both conducting and non-conducting liquids, gases and steam, the new OPTISWIRL 4200 vortex flowmeter can be used for internal monitoring of energy flows for saturated and superheated steam or hot water, and heat metering applications. It is also a perfect choice for such applications as steam boiler monitoring, burner consumption measurement, or compressed air network monitoring, including free air delivery (FAD) applications.
For more information, speak with the KROHNE experts in Booth 606 at the Food Processing Expo or visit www.us.krohne.com.
About KROHNE
KROHNE is a worldwide technological leader in the development, manufacture and distribution of accurate, reliable and cost-effective measuring instruments for the process industries. KROHNE focuses on forming partnerships with its customers to provide them with the most reliable and innovative solutions available in the marketplace. For more information about KROHNE's complete line of measuring instrumentation for the process industries, contact KROHNE at 1-800-FLOWING (978-535-6060 in MA); fax: (978) 535-1720, email: info@KROHNE.com, Twitter, Facebook, or visit www.us.krohne.com.
Featured Product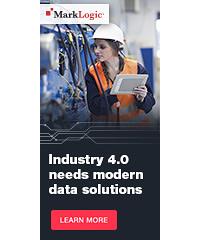 Use Data to Deliver Efficiency, Reduce Risk, and Create Better Products. Disruptive technologies and market changes are transforming the manufacturing industry, requiring a new focus on optimizing use of data and information. It all adds up to a new industrial revolution called Industry 4.0. Organizations who want to realize the potential of this revolution need to "Industrialize their data," making it a core asset to deliver better products and customer service, navigate complex business environments, and transform for the future. MarkLogic customers are delivering on this vision for data with a proven architectural pattern called the Operational Data Hub that simplifies the integration of data along the digital thread to power operational and analytic use cases across the enterprise.