Showcases capabilities for supplying companies with innovative and sustainable finishes
Muskegon, MI - Lorin Industries, Inc., the global industry leader in the innovation and production of coil anodized aluminum, announces it was part of a trade delegation that visited China with the extremely successful Michigan-China Trade program. Spearheaded by Governor Rick Snyder and the Michigan Economic Development Corporation (MEDC), the weeklong mission identified numerous synergies and specific opportunities for Lorin and other Michigan businesses to supply products to Chinese companies.

Along with meeting with business leaders and high-ranking government officials, the Lorin team showcased its unique capabilities to executives at companies in several critical sectors, including automotive, building and construction, and general manufacturing.
"We were honored to have participated in part of this years trade delegation to China led by Governor Snyder to promote Michigans manufacturing, mobility, agriculture and tourism sectors," said Park Kersman, President of Lorin Industries, Inc. "As a small company with limited financial and personnel resources to pursue international trade with China, we can only reach so far, so tapping into the trade mission was extremely valuable and really helped Lorin gain visibility. We are proud to be part of the Governors effort to underscore the potential for Chinese companies to invest in Michigan products and provide jobs to Michiganders."
According to Kersman, the mission was an excellent forum to discuss how the sustainable finish of Lorin products enhances a metallic look, while also highlighting the products physical performance and durability. "Lorin received tremendous interest from the high-end architectural product market, which is looking to incorporate the companys consistent and high-quality finishes into unique designs for iconic new structures. We have attended several trade delegations over the past eight years, and appreciate the opportunity they provide."
At the end of this years trade mission, Lorin attended the Michigan-China friendship banquet, along with the delegation and 200 US and Chinese dignitaries, to honor friendship and trade between Michigan and China.
For more information about Lorin Industries, Inc. and coil anodized aluminums applications, visit www.Lorin.com.
###
About Lorin
Lorin Industries has provided coil anodized aluminum to markets worldwide for over 60 years. Our history of global leadership in anodized aluminum finishing began with bringing the process to market in 1953, and continues today with industry-leading innovation. Lorin has worked with some of the world's leading product designers, engineers, fabricators, architects and designers, to create new and exciting product designs that last throughout generations.
Whether used for functional or aesthetic transportation applications, the possibilities for coil anodized aluminum are infinite. The natural beauty of Lorins anodized aluminum finishes bring new products to life, while providing a strong durable surface that will never chip, flake, or peel. Additionally, Lorins coil anodized aluminum products have been used for architectural products, consumer and commercial appliances, and any number of other industries, with the same excellent aesthetics and durability long proven in transportation applications. At Lorin, we offer infinite possibilities in aluminum finishing solutions.
Featured Product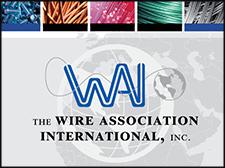 The Wire Association International (WAI), Inc., founded in 1930, is a worldwide technical society for wire and cable industry professionals. Based in Madison, Connecticut, USA, WAI collects and shares technical, manufacturing, and general business information to the ferrous, nonferrous, electrical, fiber optic, and fastener segments of the wire and cable industry. WAI hosts trade expositions, technical conferences, and educational programs.