Kinetic Vision, a national leader in product research and development, will unveil its new virtual eCommerce modeling and simulation system this October at the nations premier consumer packaging conference in Chicago.
Kinetic Visions Modeling + Simulation group will roll out their new virtual eCommerce packaging testing system that helps companies secure shipping certifications that companies like Amazon and Walmart require.

"Our background in stress analysis, finite element analysis, and modeling and simulation gives us a unique advantage in helping consumer product companies optimize their products to pass shipment testing requirements," said Jim Topich, VP of Engineering for the company.
The Kinetic Vision system focuses on assisting with ISTA® certification and also ISTA®6, the version required by Amazon. ISTA® stands for the International Safe Transit Association and is the leading industry developer of testing protocols and design standards that define how packages should perform to ensure protection of their contents. Kinetic Visions virtual system tests products that "Ships In Own Container" (SIOC) and items placed into a master shipping container (known as "Over Box"). While physical testing is ultimately required to comply with the ISTA® specifications, computer simulations of comparable test procedures can be utilized to rapidly predict and optimize packaging performance. Digital testing enables significant time and cost savings over manual trial-and-error approaches.
"Products that were once designed for palletized delivery are now being shipped directly to the consumer. Thats convenient for the buyer, but a headache for the manufacturer. The only way to rapidly adjust packaging is through simulation, and our system gives manufacturers a way to test and react even before physical models are made" said Topich.
The company will be showcasing its virtual eCommerce system at the Pack Expo trade show, taking place at Chicagos McCormick Place from October 15th to 17th. Pack Expo is the worlds largest packaging trade event with an estimated 50,000 attendees and over 2,500 industry exhibitors. Kinetic Visions booth is #E-10505, located in the Lower Lakeside center at McCormick Place. Learn more at kinetic-vision.com.
About Kinetic Vision
Kinetic Vision has been developing cutting-edge products and technology for an international customer base since 1988. We are a full-service firm bringing design, engineering and development talent together to deliver progressive and imaginative product and process solutions. Our area of expertise is turning strategy into execution using the latest digital development tools to support the product lifecycle. This includes enterprise-wide deployment of advanced technologies such as HPC modeling and simulation, industrial scanning and virtual reality, but extends to many other cost-saving and speed-to-market solutions.
Featured Product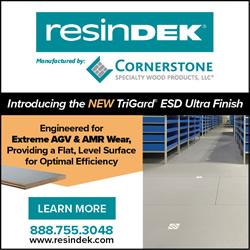 ResinDek flooring panels are designed for elevated platforms such as mezzanines, pick modules, and work platforms. They have the proven structural integrity to support dynamic and static rolling limits from 2,000 to 8,000 lbs. ResinDek flooring panels are available in a multitude of options that are customized for load capacities, required finish type, volume and type of traffic including heavy rolling pallet jack loads and robotic traffic with AGVs and AMRs.