M5 cable connectors are available with 3 or 4 intermateable contacts and PUR cable lengths of 2m and 5m.
Camarillo, CA - October 10, 2018 - M5 Shielded and Overmoulded Cable Connectors are part of binder USAs 707 Series, developed for the miniature sensor market. M5 cable connectors are available with 3 or 4 intermateable contacts and PUR cable lengths of 2m and 5m. They have 360-degree shielding with non-disrupted data transfer due to screening attenuation values from 60 dB in the 1 GHz range, and a threaded nut that is immune to vibration. Key applications include sensor technology, material handling, data storage, and more.

Highlights include:
• Number of contacts: 3 or 4
• Cable lengths: 2m or 5m
• IP67 rated
• Rated voltage: 60
• Rated current: 1 A
• Temperature range: -25°C to 80°C
• Housing material: PUR
• Contact plating: Au
• Custom configurations available
About Binder USA, LP
Binder USA, LP, is a subsidiary of Binder Group, a leading global manufacturer of circular connectors, custom cordsets, and LED lights. Binder USA products are used around the world in industrial environments for factory automation, process control, and medical technology applications. Defined by technical innovation and traditional values, the binder name is synonymous with the highest standards of quality and reliability. The companys quality management system is ISO 9001 and 14001 certificated, but it is a solution-focused approach to customer applications and commitment to superior service that truly differentiates binder from the competition.
For more information, visit www.binder-connector.us, or email sales@binder-connector.us.
Featured Product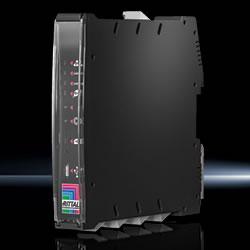 Download the Rittal Fact Book, we'll show you side-by-side product comparisons of Rittal and competitive products, and let you decide. You are an innovator. Your mind runs with "What if?" and the status quo can always be improved. When you find a supplier like Rittal who is forward thinking, you know you've found a partner. A supplier known worldwide for equipment that incorporates cutting edge technology, designed for efficiency, and solves problems other engineers hadn't even considered yet. A company that lives the Industry 4.0 world and puts it into practice in every step of the process.