Renncos 301 E-commerce Bagger/Labeler automatically forms an optimally sized shipping bag around groups of products and prints/applies an address label for maximum packaging productivity
At up to 30 packages per minute, the new 301 E-commerce Bagger/Labeler from Rennco, a product brand of ProMach, provides fulfillment locations with an automated process for fast, cost-effective packing of mixed products going to a single address.

The 301 E-commerce Bagger/Labeler eliminates the need for employees to handle bags or labels. Less manual handling means greater overall packing-line efficiency. As a tote arrives at the packing station where the bagger/labeler is located, its bar code is scanned. Address data is then downloaded to the 301s integrated label printer applicator. The employee transfers the products from the tote to the 301 and the automation does the rest.
With a footprint of less than nine square feet, distribution centers can use these compact caster-mounted machines to increase the number of lines in their shipping facilities.
Overall packing costs are directly lowered in two ways. A switch from packaging mixed-product orders in boxes to bags lowers Dimensional Weight (DIM) and its associated shipping cost. Also, the 301 minimizes film cost by forming optimally sized bags around each order. Furthermore, fulfillment centers can save as much as 50 percent on consumables by eliminating the need to purchase premade bags. The 301 produces bags as small as 2 x 2 inches to as large as 18 x 24 inches, and the bags can be used for shipping consumer or commercial products.
The 301 E-commerce Bagger/Labeler utilizes an ID Technology Model 252 label printer applicator which features a touch screen user interface for easy programming, a rewind motor "module" that is hot swappable, a revolutionary plasma coated air assist tube that eliminates label sticking, and many options, including a service position tamp module.
See Rennco and their E-commerce Bagger/Labeler at Pack Expo 2018, Booth #S-3640. During the show Rennco will demonstrate the 301s capability to label and bag, in just seconds, totes full of mixed products arriving via conveyor.
About Rennco
Manufacturers of consumer and food service disposables, hardware, consumer goods, medical goods, and industrial laundry services rely on Rennco for high-performance automatic and semi-automatic vertical bagging systems and heat sealing solutions. As part of the ProMach Flexibles business line, Rennco helps our packaging customers protect and grow the reputation and trust of their consumers. ProMach is performance, and the proof is in every package. Learn more about Rennco at http://www.Rennco.com.
About ProMach
ProMach is a family of best-in-class packaging solution brands serving manufacturers of all sizes and geographies in the food, beverage, pharmaceutical, personal care, and household and industrial goods industries. ProMach brands operate across the entire packaging spectrum: filling and capping, flexibles, pharma, product handling, labeling and coding, and end of line. ProMach also provides Performance Services, including integrated solutions, design/build, engineering services, and productivity software to optimize packaging line design and deliver maximum uptime.
ProMach designs, manufactures, integrates, and supports the most sophisticated and advanced packaging solutions in the global marketplace. Its diverse customer base, from Fortune 500 companies to smaller, privately held businesses worldwide, depends on reliable, flexible, technologically advanced equipment and integrated solutions. ProMach is headquartered near Cincinnati, Ohio, with manufacturing facilities and offices throughout the United States, Canada, Mexico, Brazil, Europe, United Arab Emirates, and China. For more information about ProMach, visit http://www.ProMachBuilt.com.
Featured Product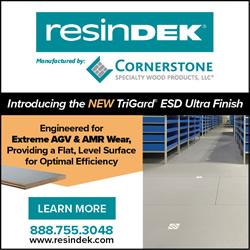 ResinDek flooring panels are designed for elevated platforms such as mezzanines, pick modules, and work platforms. They have the proven structural integrity to support dynamic and static rolling limits from 2,000 to 8,000 lbs. ResinDek flooring panels are available in a multitude of options that are customized for load capacities, required finish type, volume and type of traffic including heavy rolling pallet jack loads and robotic traffic with AGVs and AMRs.