Kerr will share GE Ventures unique outlook for investing in the New Industrial segment with a focus on frontier technologies such as robotics, machine learning, artificial intelligence, augmented and virtual reality, 3D printing, cybersecurity, blockchain and predictive maintenance.
Chicago - Hannover Fairs USA today announced that GE Ventures will sponsor Innovations Day at HANNOVER MESSE USA 2018. Karen Kerr, executive managing director of GE Ventures, will kick off Innovations Day with a presentation of the 2018 GE Ventures New Industrial Report on Thursday, September 13 in the Solutions Theater on the show floor. Kerr will share GE Ventures unique outlook for investing in the New Industrial segment with a focus on frontier technologies such as robotics, machine learning, artificial intelligence, augmented and virtual reality, 3D printing, cybersecurity, blockchain and predictive maintenance.

"HANNOVER MESSE is the worlds foremost showcase for Industry 4.0," said Kerr. "GE Ventures is excited to support bringing the Messe to North America and to showcase our new industrial portfolio companies that are reinventing global manufacturing with advanced technologies and new business models."
GE Ventures invests broadly in the New Industrial segment in ways that will improve the design, manufacturing, delivery and operation of products. The company invests in both early-stage and growth-stage companies with a particular interest in how energy intersects with manufacturing, mobility and smart environments.
"We are proud and excited to partner with GE Ventures in the new Solutions Theater at HANNOVER MESSE USA to showcase how GE Ventures investment strategy is propelling manufacturing forward," said Adrienne Zepeda, show manager of Industrial Events at Hannover Fairs USA.
Other highlights of Innovations Day include a presentation by GE Ventures portfolio company Xometry, the largest on-demand manufacturing platform that is transforming custom manufacturing through its proprietary software platform. GE Ventures also will host an additive manufacturing panel discussion, featuring thought leaders focused on the latest innovations in 3D printing for the industrial sector.
Also during Innovations Day, GE Ventures and Sente will host a pitch showcase for early-stage startup companies focused on digital factory technologies, such as Industrial Internet of Things, artificial intelligence, robotics, augmented and virtual reality, blockchain and similar leading-edge innovations. The pitch showcase provides select startups with a unique opportunity to showcase their innovations to potential customers, key investors and the media attending the trade show. Participating startups will be selected by GE Ventures, Sente and the Hannover Fairs USA team.
"Entrepreneurs need more than capital. They need strategic partners that can provide access to potential customers, expertise, intellectual property and much more," said Kerr. "Innovations Day at HANNOVER MESSE USA will showcase how GE Ventures is investing in the industrial revolution and supporting the creation of new products and services."
For additional information about Solutions Theater, visit hannovermesseusa.com/attend/solutions-theater/.
About HANNOVER MESSE USA
HANNOVER MESSE, the worlds leading industrial technology show launched 70 years ago in Hannover, and HANNOVER MESSE USA are at the forefront of showcasing innovations in the factory of the future: cobots, industrial energy systems, Industrial Internet of Things (IIoT), Industry 4.0 and related applications such as predictive maintenance, more efficient use of raw materials, faster time to market, and other trends in industrial manufacturing. HANNOVER MESSE USA will be produced alongside IMTS 2018 from September 10-15 at McCormick Place in Chicago.
About Hannover Fairs USA
Hannover Fairs USA, Inc. (HFUSA) is the U.S. subsidiary of Hannover, Germanys Deutsche Messe - one of the worlds largest and most active organizers of industrial technology events. Chicago, Illinois-based HFUSA helps U.S. companies expand domestically and internationally through exhibit and sponsorship opportunities at Deutsche Messes worldwide portfolio of events. Participation in these events offers U.S. companies an unparalleled opportunity for business development through trade shows and conferences held in Hannover, Germany and North America, as well as in key markets such as China, India, Mexico and Turkey. HFUSA creates qualified new business leads, helps U.S. companies enter new markets and aids them in forming lasting partnerships.
About GE Ventures
GE Ventures is a catalyst to GEs goal of making the world work better. An innovation engine within GE, its collective of innovators believes that unlike forces must converge to grow ideas into technologies that build, cure, move and power the world of tomorrow. GE Ventures has a breadth of avenues in which it drives innovation and its partnerships take many forms. GE Ventures finds the best ideas that emerge from the latest research, it invests in promising startups, commercializes GEs IP, creates businesses and advances initiatives that transform industries and communities.
About Sente
Sente is a Chicago-based accelerator and innovation platform that connects startups with corporate innovators and global institutions. Sente searches the world for the most high-potential startups and helps them scale through unprecedented guidance, support, and connections. Since its founding in 2013, Sente has supported early-stage companies that operate in over 40 countries, received over $20M in funding, and have generated revenues exceeding $80M. [For more information, please visit https://sente.link.
Featured Product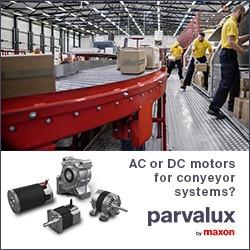 This GB56 right-angled, coupling driven gearbox from Parvalux packs a powerful punch in a small package. A width of 39mm and an output torque of 50 Nm in short-term operation. Ideal for applications where space is at a premium.