-Ecosystem of printers, materials and support deliver high quality, affordable parts, unlocking the full potential of metal 3D printing -Presentation: The economics of metal AM – a solid business case
GARDENA, Calif.--(BUSINESS WIRE)--3DEO, Inc. announced today that it will showcase how its end-to-end direct metal 3D printing solution optimizes design, enhances workflows and brings products to market faster while substantially reducing part cost at RAPID 2018, in the Fort Worth Convention Center, Fort Worth, Texas, April 23-26, 2018. 3DEO, Inc. will be located at booth 1642.

3DEO, Inc. was founded in 2016 to unlock the potential of metal 3D printing and revolutionize how engineers design, validate and manufacture products. Leveraging Intelligent Layering® Technology, a patented, breakthrough metal 3D printing process, 3DEO produces accurate, repeatable metal parts that meet MPIF Standard 35 for quality - a first in metal 3D printing. Today, having successfully printed over 10,000 parts, 3DEO provides a complete, on demand parts service encompassing design support, 3D printing, print materials and finishing to deliver low cost, high quality metal manufacturing services to a growing range of customers across a wide range of industries and applications.
"Metal 3D printing is essential to accelerate manufacturing but cost and complexity has kept it out of reach for most companies," said Matt Sand, President, 3DEO, Inc. "With Intelligent Layering and our experience of printing thousands of parts we are uniquely positioned to help customers boost their productivity, improve their business and transform their industry without a costly capital investment. We welcome you to meet with us at RAPID 2018 and see how we can help your business."
About 3DEO, Inc.
3DEOs patented Intelligent Layering® Technology unlocks the potential of metal Additive Manufacturing by drastically reducing final part cost while meeting the high industry benchmark MPIF Standard 35, achieving tight tolerances and an impressive surface finish. Intelligent Layering will open metal AM to the majority of the industries that cant afford todays expensive options. Leveraging its unique technology as a parts supplier, 3DEO sells high volume, high value metal parts to manufacturers with a variety of applications across a wide range of industries.
3DEO is selectively accepting new high volume, high value industrial applications of 100+ pieces.
More information on the company is available at 3deo.co.
Featured Product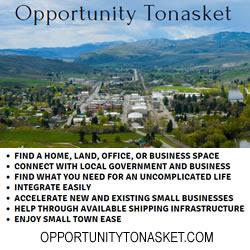 Our primary mission is to promote economic development and growth in the city of Tonasket, WA and surrounding area. This is a group of local citizens sharing a common goal. We wish to assist and promote existing businesses wishing to relocate, local businesses wishing to expand and local individuals wanting to startup a business. Preserving and enhancing the small town and rural lifestyle in a way which benefits everybody and maintains a healthy lifestyle. Opportunity Tonasket was created to be a hub for information and contacts with local city and county agencies, as well as local businesses and real estate connections. Their goal is to connect current and newly relocated individuals and businesses and "plug them in" with the best services, advice and experts in the area. Opportunity Tonasket is like a leg-up, as if one's already had a foothold in the community.