Interested customers and qualified resellers are invited to visit booth #2142 at the Fort Worth Convention Center, April 24-28, 2018, and experience first-hand this ultrafast 3D printer in action.
FORT WORTH, Texas, April 24, 2018 /PRNewswire/ -- XYZprinting, the world leader in desktop 3D printing, and Nexa3D, the maker of ultrafast stereolithography professional-grade 3D printers, jointly announced a first preview of their game-changing MfgPro220 xPF 3D printer at Rapid + TCT in Fort Worth Texas, April 24-28, 2018. The two companies will offer non-stop live demonstrations of this demonstrated concept with the printer available for sale in November 2018. This is the first ultrafast 3D printer presented in partnership between XYZprinting and Nexa3D.

This affordable factory-in-a-box is available for $19,950, a fifth of the cost of equivalent 3D printers. With a new extended build volume of 16 liters, the MfgPro220 xPF eclipses the competition with twice the print volume of all other contenders. The MfgPro220 xPF is ideal for functional prototyping, production tooling, and manufacturing of end-use parts. It is equipped with cognitive software and integrated sensors that together optimize manufacturing part performance, provide detailed diagnostics, and offer continuous monitoring. Watch the MfgPro220 xPF 3D printer in action.
"High-speed 3D printing of functional parts is the next competitive frontier in additive manufacturing," said XYZprinting Senior Vice President Michele Marchesan. "These printers are highly prized by end-users, strategic partners and resellers alike for their capacity to quickly produce high-precision projects, offering new possibilities for innovative design and production."
The MfgPro220 xPF relies on deep machine learning algorithms to intelligently slice, optimize and adaptively compile complex geometries at uniform speed and high-resolution. The MfgPro220 xPF is configured to run using both on-board and cloud controls for in-situ and remote operations of a single printer, or a full factory of printers to enable mass production of customized parts.
Prior to Rapid + TCT, XYZprinting announced a groundbreaking three-way partnership with BEGO, the leading provider of digital and traditional dental materials, 3D printers and services, and Nexa3D. The partnership is designed to transform digital dentistry and tap into this multi-billion-dollar market. Under the agreement, BEGO will exclusively market and sell, under its own label, a special purpose high-speed Nexa3D dental printer that will be solely manufactured by XYZprinting. Nexa3D will exclusively develop the required technology and products within the partnership. Watch what the three companies' CEOs said about this game-changing agreement.
XYZprinting earlier announced an agreement to strategically invest in Nexa3D, manufacture and sell their printers under the XYZprinting brand, and manufacture other white label products on behalf of Nexa3D for industry leaders in other verticals.
The MfgPro220 xPF 3D printer is powered by proprietary Lubricant Sublayer Photo-curing (LSPc) technology and a patented structured light matrix capable of reaching speeds of 1Z cm per minute. This drastically reduces 3D printing cycles of precision parts from hours to minutes. The technology is uniquely capable of achieving uniform high-speed and high-resolution printing at convincing injection molding mechanical properties, print size and production speed and scale.
About XYZprinting
XYZprinting is a leading global provider of comprehensive 3D printing solutions. It is the number one global brand in desktop 3D printing products and services, and is now decisively moving into the industrial additive manufacturing arena. XYZprinting is backed by the world's leading electronic manufacturing conglomerate, New Kinpo Group, which earns more than $36 billion in revenues annually with more than 8,500 R&D engineers across four continents. With nearly two decades of design and manufacturing experience, New Kinpo Group is a recognized manufacturer of many of today's printers for both personal and commercial use. Learn more at pro.xyzprinting.com.
About Nexa3D
Nexa3D makes ultrafast industrial-grade stereolithography 3D printers that are affordable to professionals and businesses of all sizes. Its printers are powered by proprietary Lubricant Sublayer Photo-curing (LSPc) technology and patented structured light matrix capable of reaching top speeds of 1Z cm per minute, drastically reducing 3D printing cycles of precision parts from hours to minutes. Learn more at www.nexa3d.com.
Featured Product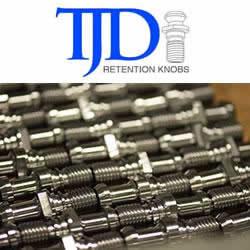 Our retention knobs are manufactured above international standards or to machine builder specifications. Retention knobs are manufactured utilizing AMS-6274/AISI-8620 alloy steel drawn in the United States. Threads are single-pointed on our lathes while manufacturing all other retention knob features to ensure high concentricity. Our process ensures that our threads are balanced (lead in/lead out at 180 degrees.) Each retention knob is carburized (hardened) to 58-62HRC, and case depth is .020-.030. Core hardness 40HRC. Each retention knob is coated utilizing a hot black oxide coating to military specifications. Our retention knobs are 100% covered in black oxide to prevent rust. All retention knob surfaces (not just mating surfaces) have a precision finish of 32 RMA micro or better: ISO grade 6N. Each retention knob is magnetic particle tested and tested at 2.5 times the pulling force of the drawbar. Certifications are maintained for each step in the manufacturing process for traceability.