The Production SystemTM Wins at New York Ceremony; Awards Celebrate 31 Years of Honoring Innovators and Innovation
NEW YORK--(BUSINESS WIRE)--The Edison Awards, celebrating 31 years of honoring the best in innovation and excellence in the development of new products and services, announced today that the Desktop Metal Production SystemTM was voted a Gold Winner for innovation at the April 11th event at The Capitale in New York City. Members of Desktop Metals founding team including CTO, Jonah Myerberg, and inventor of binder jet printing, Ely Sachs, joined hundreds of senior executives from some of the worlds most recognized companies to acknowledge the hard work and commitment of all of the 2018 Edison Award winners.

"Our judges recognized the Desktop Metal Production System as a true innovator out of the many products in its category"
Tweet this
Being recognized with an Edison Award has become one of the highest accolades a company can receive in the name of innovation and business. The awards are named after Thomas Alva Edison (1847-1931) whose inventions, new product development methods and innovative achievements literally changed the world, garnered him 1,093 U.S. patents, and made him a household name around the world.
Winning in the Applied Technology/ 3D Printing category, the Desktop Metal Production System is the first metal 3D printing system for mass production of complex metal parts that is up to 100 times faster than current laser systems, delivering the speed, quality, and cost-per-part needed to compete with traditional manufacturing processes.
"Our judges recognized the Desktop Metal Production System as a true innovator out of the many products in its category," said Frank Bonafilia, executive director of the Edison Awards.
"We are truly honored to join the prestigious roster of recipients of the Edison Award," says Ric Fulop, CEO and Co-founder of Desktop Metal. "Until now, metal 3D printing has failed to meet todays manufacturing needs due to high costs, slow processes and hazardous materials. Desktop Metal is committed to making metal 3D printing accessible for engineers, and the Production System enables a rapid go-to-market production capability that marks a fundamental shift in how products will be made."
The ballot of nominees for the Edison Awards™ was judged by a panel of more than 3,000 leading business executives including past award winners, academics and leaders in the fields of product development, design, engineering, science and medical.
About Desktop Metal
Desktop Metal, Inc., based in Burlington, Massachusetts, is accelerating the transformation of manufacturing with end-to-end metal 3D printing solutions. Founded in 2015 by leaders in advanced manufacturing, metallurgy, and robotics, the company is addressing the unmet challenges of speed, cost, and quality to make metal 3D printing an essential tool for engineers and manufacturers around the world. In 2017, the company was selected as one of the worlds 30 most promising Technology Pioneers by World Economic Forum, and was recently named to MIT Technology Reviews list of 50 Smartest Companies. For more information, visit www.desktopmetal.com.
About the Edison Awards™
The Edison Awards is a program conducted by Edison Universe, a non-profit, 501(c)(3) organization dedicated to fostering future innovators. The Awards have been recognizing and honoring the best in innovations and innovators since 1987. They honor game-changing innovations that are at the forefront of new product and service development, marketing and human-centered design, and are one of the highest accolades a company can receive in the name of successful innovation. For more information about the Edison Awards complete program and a list of past winners, visit www.edisonawards.com.
Featured Product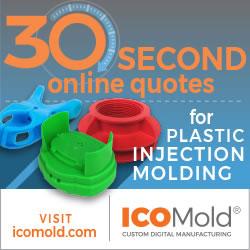 ICOMold provides plastic injection molding, CNC machining of plastic and metal, and urethane casting to customers worldwide in a variety of industries. We offer low-cost, high-quality custom plastic parts manufactured to your design, with a very fast turnaround. Any quantities from single prototypes to large, on-demand production runs. We are ISO 9001:2008 certified, and our production molds carry a lifetime warranty. Get an online quote in less than 30 seconds with our interactive quotation system.