With the addition of three new features–Queues, Barcode Scanner support, and Caution Tape–Seegrid increases overall material movement efficiency and builds on its commitment to transition customers towards automated, data-driven environments.
PITTSBURGH--(BUSINESS WIRE)--Seegrid, the leader in connected self-driving vehicles for materials handling, today announced the expansion of its fleet management software, Seegrid Supervisor. With the addition of three new features-Queues, Barcode Scanner support, and Caution Tape-Seegrid increases overall material movement efficiency and builds on its commitment to transition customers towards automated, data-driven environments.

Seegrid Supervisor directs self-driving vision guided vehicles (VGVs) for flawless material flow, tracking vehicles in real time and facilitating a connected, smart factory environment for companies like Whirlpool, General Motors, and Jaguar Land Rover.
"We work closely with our customers to understand their unique needs and challenges, and develop solutions that benefit our entire customer base," said Jeff Christensen, vice president of product at Seegrid. "Developed in close partnership with our customers, Supervisors newest features reduce the cost and unpredictability of human involvement across many touchpoints, improving safety and reliability, and increasing overall efficiency for our customers."
Queues
Supervisors new Queues feature helps companies reduce wasted travel time, maximizing the productivity of their fleet of VGVs. When a VGV completes a job, Supervisor identifies the next available job and automatically dispatches the vehicle to execute its next task, reducing the amount of travel without payloads, known as deadheading.
Several Seegrid customers are already enjoying increased productivity from this new feature. In one example, VGVs no longer need to return to a taxi stand across the organizations 500,000+ sq ft facility before being dispatched to the next assignment. Now, the VGVs are assigned new tasks by Supervisor as soon as they become available, wherever they are in the building, which reduces wait time, mileage, and wasted energy.
Barcode Scanner
Supervisor now integrates with barcode scanners, allowing customers to direct the movement of materials transported by VGVs throughout their facilities. Team members simply scan each payload and Supervisor understands the load type, automatically dispatching the vehicle to its destination. The Barcode Scanner integration streamlines the delivering process, eliminating the need for a team member to decide where the goods and vehicle should be sent.
Developed with an innovative automotive industry customer, Supervisors Barcode Scanner integration has increased efficiency in this customers parts-to-line application. Previously, team members in the warehouse loading station spent time telling each forklift driver where to stop and unload parts. Now, they simply scan each payload and Supervisor tells the VGV where to drop off the materials among the 100+ work cells. This shaves minutes off each delivery, making a significant impact on operations.
Caution Tape
In busy manufacturing and distribution environments, customers often need to block off or restrict certain areas from VGV travel for a variety of reasons. Supervisors new Caution Tape feature prevents VGVs from traveling down certain segments of the route network. When a VGV begins its route, Supervisor tells it to ignore any blocked segments. The VGVs intelligently work around the blocked area and continue on their routes.
This new feature gives fleet managers the ability to quickly block off segments of a facility due to construction, scheduled maintenance, or spillage-without stopping operations. Caution Tape improves safety for workers and keeps production moving in the face of an unforeseen need to re-route traffic.
Seegrid will be at MODEX in Atlanta April 9-12 and will have experts on site to discuss the companys approach to connected materials handling solutions. Visit us at booth B1424.
ABOUT SEEGRID
Seegrid is the leading provider of connected self-driving vehicles for materials handling with more than a million miles driven. The Seegrid Smart Platform combines flexible and reliable infrastructure-free vision guided vehicles with fleet management software for a complete connected solution. Seegrid accelerates Industry 4.0 and lean initiatives with incremental automation, helping companies achieve a truly connected enterprise and transform into smart factories of the future. www.seegrid.com
Featured Product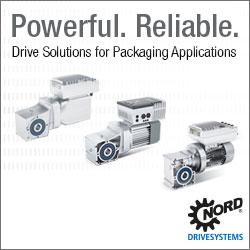 NORD's redesigned line of small CLINCHER parallel gear units showcase increased power and torque capacity for a variety of applications. These re-engineered versions will be replacing the existing SK0182NB, 0282NB, and 1382NB units. They are lightweight, have improved heat dissipation, are more cost-effective, and are available with NORD nsd tupHTM sealed surface conversion for wash-down and extreme environments.