USA News Group - As onlookers were recently wooed by 3D light displays printed on thin air, that harkened to technologies once only dreamed of by fans of Star Wars, yet another major development in the field of 3D technology was celebrated to open 2018.
FN Media Group Presents USA News Group News Commentary

USA News Group - As onlookers were recently wooed by 3D light displays printed on thin air, that harkened to technologies once only dreamed of by fans of Star Wars, yet another major development in the field of 3D technology was celebrated to open 2018.
So far in the first month of the year has already seen displays such as the floating lights above, as well as major health breakthroughs as well, including enhanced breast cancer detecftion in the field of 3D mammography, and the potential for 3D printers to print drugs on demand.
While the market has already come through its initial phases of 3D Mania, there are still several companies leading the way in 3D tech that are positioned to keep riding the wave into 2018 and beyond, including 3D Systems Corporation (NYSE: DDD), Organovo Holdings, Inc. (NASDAQ: ONVO), Proto Labs, Inc. (NYSE: PRLB), Stratasys Ltd. (NASDAQ: SSYS), and Zecotek Photonics Inc (TSX.V: ZMS) (OTC: ZMSPF).
During a demonstration hosted by scientists at Brigham Young University (BYU) in Utah, computer engineering professor and holography expert Daniel Smalley and his team amazed his audience with their ability to project 3D images of light-much like the hologram of Princess Leia in the early scenes of Star Wars: A New Hope.
"Our group has a mission to take the 3D displays of science fiction and make them real," said Smalley. "We have created a display that can do that."
While Smalley's group's demonstration entertained those that clearly saw the projections, the reality of the serious potential for 3D tech is also becoming clearer.
Whether it be advancements through optics, like Smalley's group's achievement, or creating intricate and important widgets and gadgets with 3D printers, the 3D market is set to boom some more in 2018.
The market has already crowned multiple billion-dollar companies in the sector, such as 3D Systems Corporation (NYSE: DDD), Proto Labs, Inc. (NYSE: PRLB), and Stratasys Ltd. (NASDAQ: SSYS).
However, there is still room for groups like Organovo Holdings, Inc. (NASDAQ: ONVO), and even smaller Zecotek Photonics Inc (TSX.V: ZMS) (OTC: ZMSPF) to make their own leaps and bounds in this sector in 2018.
WHY 3D POSSIBILITIES EXCITE ENGINEERS AND INVESTORS ALIKE
The growth rate of the 3D printing market is quite large, and the applications of the technology are being welcomed by engineers everywhere.
Between 3D imaging/displays and 3D printing, there is plenty to get excited about, in terms of technological possibilities in the near future-and in terms of investment, now.
In just the healthcare market alone, the Global 3D Printing segment was valued at $579 million in 2014-but according to Allied Market Research, that market is expected to garner $2.36 billion by 2020, registering a CAGR of 26.2% during the forecast period of 2015-2020.
The growth in the 3D printing sector of healthcare will likely give rise to more personalized care, pre-surgical planning, and pre-clinical drug testing.
In the aerospace industry, 3D printing is expected to grow from $714.5 million in 2017 to $3.057 billion by 2022 at a CAGR of 27.42%.
And in the automotive market, 3D printing will be worth $1.56 billion by 2020, growing at a CAGR of 26.58%.
However, 3D imaging and 3D printing together are presenting major potential for saving lives in the operating room.
Recently, 3D Systems Corporation (NYSE: DDD) announced an exclusive partnership that will save both surgeons and patients hours in the operating room. By printing out 3D models ahead of time for the surgeon, a customized surgical plan can be developed prior to even entering the operating room.
While 3D Systems is printing models, Organovo Holdings, Inc. (NASDAQ: ONVO) is 3D bioprinting donor tissues, with its NovoTissues technology that is already receiving blessings from the FDA.
But not all 3D advancements have to come at the end of a scalpel.
Printing custom parts and materials has been big business for both Proto Labs, Inc. (NYSE: PRLB) and Stratasys Ltd. (NASDAQ: SSYS). Proto Labs recently acquired RAPID, a custom parts supplier that specializes in quick-turn sheet metal fabrication and CNC machining. Whereas Stratasys struck a deal with a major French aircraft design and manufacturing group to use its design and production process throughout their business.
However it's junior tech developing firm Zecotek Photonics Inc (TSX.V: ZMS) (OTC: ZMSPF) that's bridging both worlds, between 3D displays and 3D printing technology.
SMALL CAP, BIG 3D PROSPECTS
Known also for its LFS crystals, which are involved in some of the world's most major research breakthroughs, Zecotek Photonics has made some of its highest profile partnerships in its 3D display arm of the company.
Among Zecotek's most fascinating developments, is their patented 3D display technology, which is at the vanguard of a new generation of glasses-free 3D displays.
"Our 3D display platform offers each manufacturing partner the ability to design, build and install their own unique, content rich HUD unit. In such a very competitive landscape, we are pleased that our patented 3D technology has attracted two world-class automakers. We are currently working with both manufacturers and expect to deliver the first 3D-HD-HUD display systems in the second half of 2018," says Dr. A.F. Zerrouk, Chairman, President and CEO of Zecotek Photonics Inc.
The result has been major interest from automakers-Starting with a deal in July to develop a brand-specific 3D head-up display (HUD) and entertainment console for one of Germany's leading automobile manufacturers, followed by another automaker signing with Zecotek in November.
It's a sector of the automotive industry that's just starting to heat up. In 2015, the automotive HUD industry was worth approximately $411.6 million with over 1.2 million units sold. That same market is projected to grow at a CAGR of roughly 21.68% through 2020 to a value of over $1.3 billion, with German automakers taking on the largest amount of adoption in integrating HUD products.
Zecotek is also developing its own compact, high-speed 3D printer, which will use high-performance metal alloys and offers technical and commercial advantages over competing technologies-much like Zecotek does with its LFS crystals.
Their new 3D printer is targeted for prototyping and distributed manufacturing with specific applications in electronics, aerospace, automotive, mechanical, and healthcare industries.
POTENTIAL COMPARABLES
3D Systems Corporation (NYSE: DDD)
3D Systems Corporation provides 3D printing products and services worldwide. The company's 3D printers transform data input generated by 3D design software, CAD software, or other 3D design tools into printed parts using a range of print materials, including plastic, nylon, metal, composite, elastomeric, wax, polymeric dental materials, and Class IV bio-compatible materials. The company sells its products and services through direct sales force, partner channels, and distributors. 3D Systems Corporation was founded in 1986 and is headquartered in Rock Hill, South Carolina.
Organovo Holdings, Inc. (NASDAQ: ONVO)
Organovo is an early commercial stage company, that designs and creates functional and 3D human tissues for use in medical research and therapeutic applications. The company develops 3D human tissue models through internal development and in collaboration with pharmaceutical, academic, and other partners. Its 3D human tissues could be employed in drug discovery and development, biological research, and as therapeutic implants for the treatment of damaged or degenerating tissues and organs. Organovo Holdings, Inc. was founded in 2007 and is headquartered in San Diego, California.
Proto Labs, Inc. (NYSE: PRLB)
Proto Labs operates as an e-commerce enabled digital manufacturer of custom parts for prototyping and short-run production in the Unites States, Europe, and Japan. The company utilizes injection molding, computer numerical control machining, and three-dimensional (3D) printing to manufacture custom parts for developers and engineers who use 3D computer-aided design software to design products in the medical, aerospace, computer/electronics, consumer products, industrial machinery, and other markets. Proto Labs, Inc. was founded in 1999 and is headquartered in Maple Plain, Minnesota.
Stratasys Ltd. (NASDAQ: SSYS)
Stratasys provides 3D printing and additive manufacturing solutions for the creation of parts used in the processes of designing and manufacturing products; and for the direct manufacture of end parts. Its 3D printing systems utilize its patented fused deposition modeling (FDM) and inkjet-based PolyJet technologies to enable the production of prototypes, tools used for production and manufactured goods directly from 3D CAD files or other 3D content. The company was founded in 1989 and is headquartered in Eden Prairie, Minnesota.
For a more in-depth look into ZMS you can view the in-depth report at USA News Group: http://usanewsgroup.com/2018/02/05/photonics-technology-making-large-gains-while-changing-the-world/
Article Source:
USA News Group
Featured Product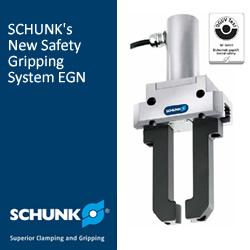 With the SLS, SOS, and STO functionalities, the SCHUNK EGN gripping system certified in accordance with DIN EN ISO 13849 enables safe human/machine collaboration. If the production process is interrupted by an emergency shut-off, the SCHUNK EGN goes into either a safely limited speed mode or a safe stop mode depending on the activated protection zone. In contrast to other solutions available on the market, the SCHUNK safety gripping system is continuously powered even in the safe operating stop so that the gripped parts are reliably held even without mechanical maintenance of gripping force. As soon as the protection zone is released, the gripper immediately switches back to the regular operating mode without the system having to be restarted.