Russell Compact Sieve® paired with innovative ultrasonic technology increases throughput and prototype iteration at New Balance
Established in 1906, New Balance Athletics, Inc., informally known simply as New Balance, is one of the worlds largest athletic shoe manufacturers. One of New Balances latest innovations is the addition of an additive manufacturing laboratory; along with the production of the worlds first laser printed shoe. The Zante Generate is the worlds first running shoe with a 3D printed midsole. Composed of Duraform® TPU Elastomer, the revolutionary sneaker is made using a laser sintering process; which converts this additive manufacturing powder into solid cross sections using a laser.

Initially, New Balances laboratory began by processing small batch work. However, looking to transition the lab into a larger scale of commercialization, New Balance turned to Russell Finex, worldwide leader in fine mesh separation technology, for a more efficient solution to achieve increased throughput and improved flowability of powder.
Following consultations and a product trial at Russell Finexs specialized test facility, New Balance purchased a Russell Compact Sieve® and Vibrasonic® Deblinding System. This combination not only fulfills the athletic giants need to increase throughput, but also ensures purity of the processed 3D printing powders. The Russell Compact Sieve® is a versatile, high-capacity industrial screener that is half the height of a traditional sieve. Equipped with a solid rubber suspension, the revolutionary sieve allows for quieter operation - as low as 70dBA. Designed to minimize cleaning time, the unit is easy to strip down without the need for tools; allowing operators to easily access mesh screens.
The inventors of ultrasonic sieve deblinding technology, Russell Finexs patented Vibrasonic® Deblinding System ensures difficult and fragile powders are quickly processed. In addition, the system ensures equipment is kept running at its optimum performance, upholds throughput rates, maximizes the life of mesh screens, and minimizes the loss of good product.
Featured Product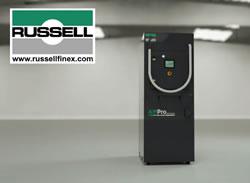 The Russell AMPro Sieve Station™ guarantees the quality of your additive manufacturing (AM) powder, and has been designed to provide optimum sieving efficiency, ensuring your powder is ready for use or reuse as and when you require it. With a simple one-button operation and mobile design, this automated check screener ensures your powder at every stage of the process is qualified for use quickly and safely. The flexibility of the Russell AMPro Sieve Station™ means you can use the system for numerous powder handling tasks - being a modular design ensures the machine can be configured to meet your exact requirements.