Simplifies utilizing the Internet of Things (IoT) for tool and device connectivity
TORONTO--(BUSINESS WIRE)--Eyelit Inc. introduces EquipmentConnect, an integrated Manufacturing Execution System (MES) application for factory automation. EquipmentConnect builds on Eyelits proven integration platform and history of integration from supply chain to the factory floor.

EquipmentConnect enables Eyelits customers to connect directly to factory equipment and/or smart devices faster, and at dramatically lower costs. EquipmentConnect simplifies the architecture and eliminates the need for third party software, such as expensive message buses. Built on Eyelits proven architecture and history of integration, it can completely replace traditional cell or area controller software.
The visual Scenario Modeler within EquipmentConnect enables the configuration of unique tool operations and interactions while significantly reducing the need for programming. EquipmentConnect provides standard interface adaptors with support for SECS/GEM, XML, OPC, RFID, file, and database connectivity. Simply, it handles the equipment control and operational scenarios behind the scenes.
Jointly developed with MiQro Innovation Collaborative Centre (C2MI), and in partnership with a world-renowned, high-tech company in Silicon Valley, EquipmentConnect has already been implemented in several manufacturing facilities.
"Collaboration is a key aspect of our work at the MiQro Innovation Collaborative Centre (C2MI), and Eyelit made for a terrific partner," stated Normand Bourbonnais, Chief Executive Officer, C2MI. "With the deployment of EquipmentConnect we realized the benefits in reducing the risk of missed processing and operator training time. The reuse capability of Eyelits solution grants us the ability to automate new tools faster; by allowing us to reduce our implementation costs by approximately 30% through using Eyelits EquipmentConnect and FactoryConnect software. In addition, we can leverage internal resources which reduces our needs for external consultants."
"EquipmentConnect builds on Eyelits sense and respond capabilities that span throughout Eyelits product suite and the virtual enterprise. It allows our customers to connect various devices and tooling much faster and easier, increasing the pace of continuous improvement," said Dan Estrada, Vice President of Sales and Marketing, Eyelit.
About Eyelit Inc. (www.eyelit.com)
Eyelit Inc. is the leader in Manufacturing Execution and Quality Management (MES and QMS) solutions for visibility, control, and coordination of manufacturing operations for the aerospace & defense, electronics, life sciences, medical device, semiconductor, and solar industries. Eyelit uniquely delivers a broad set of manufacturing solutions, including Asset Management (Semi E10, SEMI PV2-0709), Dispatching, Experiment Management (NPI), Factory Integration (Automation), Manufacturing Execution (MES/MOM), Recipe Management, Supply Chain Management, Quality Management (CAPA/OCAP/SPC/APC/RMA), and Business Process Management, that enable its customers to rapidly and cost-effectively optimize production and company processes.
With exceptional customer service, Eyelit has time and again proven that superior, innovative technology can maximize efficiency and value. More than 50 leading companies, including Ascent Solar, austriamicrosystems, CEA-Leti, CEITEC, eMagin, FLIR Systems, Innovative Micro Technology (IMT), Kionix, LFoundry, Mellanox, Murata Electronics Oy, Northrop Grumman Corporation, NXP Semiconductors, PerkinElmer, Raytheon Company, Skyworks Solutions, TowerJazz, TPSCo, and X-FAB Silicon Foundries rely on Eyelit as a trusted software partner. Follow Eyelit on LinkedIn and Twitter.
Featured Product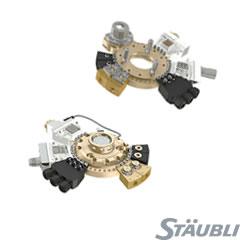 Stäubli is a pioneer in the construction and development of robotic tool changing systems. Our customers benefit from our many years of expertise in all industry sectors, as well as our modular product concept, which offers three efficient solution paths: MPS COMPLETE offers preconfigured robotic tool changers for immediate use. MPS MODULAR allows the user to determine the configuration, while MPS CUSTOMIZED allows the construction of special, application-specific systems.