One of Additive Manufacturing's Most Exciting Technology Startups Welcomes Government Leaders, Investors for Ribbon Cutting Ceremony
PostProcess Technologies, the Buffalo, NY-based company that is the first and only to automate post-printing for the industrial 3D printing market, unveiled its newly-completed Headquarters during a Grand Opening ceremony held on September 22nd. Home to the majority of the company's rapidly growing team, including Executive Leadership, Engineering, Operations, Finance, and Marketing, it also includes expanded space for the company's FINISH3D™ lab. The lab is fully equipped for the company's research and development activities, customer benchmarking, training, and solution demonstrations.

The entire PostProcess team celebrated alongside state and local officials, including New York State Senator Tim Kennedy, as well as customers, strategic suppliers and investors. New York State has invested in PostProcess through the capital investment arm of Empire State Development, New York Ventures, contributing $1 million of its $4 million initial seed round in April.
"It's an exciting day for PostProcess to reach this milestone as a result of continued adoption of our groundbreaking technology solutions that are transforming the additive manufacturing market," commented Daniel J. Hutchinson, Founder, President and Chief Technology Officer, PostProcess Technologies. "We appreciate the support of the state and city, along with our customers, investors and suppliers, so we can continue on this journey to unleash additive manufacturing."
"I am quite truly impressed with what PostProcess is creating - an innovation that will remove what has become the bottleneck and allow for volume production of additive parts at the exact moment the market needs a solution to scale up," commented Ulf Ivarsson, Founder and Chairman at AB Stratio and PostProcess investor. "In my experience as an investor, with dozens of successful startup ventures, I see the promising indicators of what is going to be a thrilling journey, with today's Grand Opening as one of many exciting moments to come."
Along with its new Headquarters, PostProcess unveiled a new logo, designed to better communicate its position as the world leader of zero to one innovations for 3D post-printing, combining software, hardware, and chemistry into a comprehensive, intelligent solution. The company's creation of a platform developed from hundreds of thousands of 3D printed benchmarks into a recommendation model for accelerating additive manufacturing into high volume production is a key company pursuit.
As one of the most exciting startups in the 3D printing space, PostProcess has grown from when Hutchinson founded the company and operated out of its first headquarters of 120 square feet to now over 6000 square feet. "With our rapid growth in employees and customer installations, this progressive headquarters space will allow us to better capture and serve the incredible inbound demand for our revolutionary, breakthrough solutions," said Jeff Mize, CEO at PostProcess
Featured Product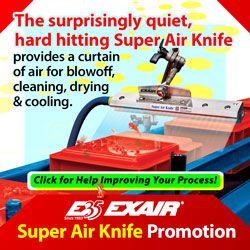 EXAIR Cabinet Cooler® Systems are a low cost, easy to install, maintenance free way to cool and purge electronic control panels. EXAIR Cabinet Coolers incorporate a vortex tube that produces cold air from ordinary compressed air - with no moving parts. The compact Cabinet Cooler can be installed in minutes through a standard electrical knockout. NEMA 12, 4, and 4X (IP54 and IP66) Cabinet Coolers that match the NEMA rating of the enclosure are available in many cooling capacities for large and small control panels. NEMA 12 Cabinet Coolers are ideal for general industrial environments where no liquids or corrosives are present. NEMA 4 Cabinet Coolers incorporate a low pressure relief valve for both the vortex tube and cabinet air exhaust. This valve closes and seals when the cooler is not operating to maintain the integrity of a NEMA 4 enclosure. NEMA 4X Cabinet Coolers offer the same protection as NEMA 4 but are constructed of stainless steel for food service and corrosive environments.