Delta's new DIACloud, EtherCAT, and EtherNet/IP platforms allow machine builders to design leaner solutions and reduce overall costs
FREMONT, Calif., Sept. 19, 2017 /PRNewswire/ -- Delta Group, a global leader in power and thermal management solutions, today announced three new platforms, the DIACloud platform, EtherCAT machine control network platform, and EtherNet/IP information connectivity network platform, to support the growing IIoT and Industry 4.0 initiatives of machine builders within the packaging industry. Demonstrations of the new platforms integrated with Delta's wide line-up of Industrial Automation technologies and products will be available to Pack Expo attendees September 25-27 at booth #C3400.

"Delta is introducing new automation technology that enables machine builders to make smarter and greener packaging machinery and production lines," said M.S. Huang, president of Delta Americas. "The wide breadth of features embedded in every product and platform solution translate into real value for machine builders in terms of design flexibility and supporting plant-wide digitization initiatives."
In addition to its cutting-edge platform technologies, Delta has also expanded its comprehensive portfolio of solutions with a total of nine new technology enablers. These new products, which will debut at Pack Expo, include the AH500 series hot-swappable midrange PLC, the MH300 series high performance compact variable frequency drive with EtherCAT, the ECMA series 100-750W servo motors with IP67 connectors, the R1-EC series EtherCAT remote I/O modules, the DVP series Load Cell module for high speed weighing, and a DPM-C520W wireless digital power meter.
Delta Goes Digital with Platform Solutions
The new additions to Delta's product line-up of technologies will deliver tangible efficiency and productivity gains. Machine builders can rely on the trusted Delta brand for high performance control of complete machine automation and stand-alone control solutions; for centralized or distributed network control and information transfer; and for monitoring, maintaining, and storing of critical machine operational or power data - locally or on the cloud. Delta's newly launched platforms reduce design time, increase setup efficiency, and enhance monitoring tools for remote maintenance and digitization of factories.
DIACloud Platform for real-time remote monitoring, maintenance, and data collection
The DIACloud platform enables devices to securely communicate as if they are on the same network. Each user can connect and see device status online or through Delta's DIACloud phone apps (iOS and Android). Delta's DX-2100 3G GSM Cloud Router/Gateway, DX-2300 Ethernet Cloud Router/Gateway and DX-3001 Ethernet/3G VPN Router can easily connect legacy and standard non-Delta devices to DIACloud. Monitoring is simplified with SMS and email alarms, while Delta's worldwide server network eases connectivity. Delta's patented technology for authentication, authorization, and data encryption ensures that devices are secure end-to-end.
EtherCAT Platform for Complete Machine Control
Delta's EtherCAT platform, a controls solution for machine automation, leverages the fastest, most efficient, open network available today. To provide complete control over the EtherCAT network, Delta is launching its AH10EMC integrated motion and PLC control module for the AH500 rack based mid-range PLC platform. With this new Delta complete solution, it is now possible to control machines with remote I/O, induction motors, spindle motors, and up to 32 axis of synchronized servo motors on one network. The EtherCAT platform also allows for control of third-party EtherCAT devices, expanding design options for machine builders.
EtherNet/IP Platform for Industrial Automation Connectivity
Delta has expanded its connectivity options to include EtherNet/IP at the platform level, upgrading the AS300 series compact modular mid-range PLC, the DVP-ES2-E series PLC, the AH500 advanced CPU, and the new AH10EMC integrated EtherCAT motion & PLC CPU for the AH500 series mid-range rack PLC. This supports an even stronger system configuration when combined with other Delta industrial automation products and increasing information connectivity with other manufacturers' automation devices.
To take full advantage of the in-booth demonstrations, Delta is encouraging visitors to grab a Delta Automation Passport in advance of Pack Expo and join the journey to smart manufacturing. Delta will also be presenting a 30-minute seminar - "Lower Cost Machine Design using Application Specific Automation Innovations" - from the Innovation Stage on Tuesday, September 26, starting at 11:00am.
For more information on Delta's new offerings and Pack Expo activities, visit www.delta-americas.com/ia/PackExpo2017.
About Delta Americas
Delta Americas has offices, R&D centers, manufacturing, distribution and repair centers throughout the U.S., Mexico, and South America. In the U.S, operations are located in Fremont, Los Angeles, San Diego, Seattle, Austin, Dallas, Houston, Raleigh, Boston and Detroit to better serve its diverse customer base. Outside the U.S. Delta Americas has operations in Mexico, Argentina, Brazil and Canada.
Delta Americas serves the IT, communications, industrial automation, renewable energy, lighting, power tool, automotive electric vehicle, and other major industries. Products include power electronics, DC brushless fans, visual displays, industrial automation, networking products, electronic components, consumer products, energy efficient and renewable energy products to name a few. The company is always striving to define new ways to improve the energy efficiency of its products through advanced research and product development.
For more information, please visit: www.delta-americas.com
About Delta
Delta, founded in 1971, is a global leader in power and thermal management solutions and a major player in several product segments such as industrial automation, displays, and networking. Its mission statement, "To provide innovative, clean and energy-efficient solutions for a better tomorrow," focuses on addressing key environmental issues such as global climate change. As an energy-saving solutions provider with core competencies in power electronics and innovative research and development, Delta's business categories include Power Electronics, Automation, and Infrastructure. Delta has 163 sales offices, 64 R&D centers and 39 manufacturing facilities worldwide.
Throughout its history, Delta has received many global awards and recognition for its business achievements, innovative technologies and dedication to corporate social responsibility. Since 2011, Delta has been selected as a member of the Dow Jones Sustainability™ World Index (DJSI World) for 6 consecutive years. In 2016, Delta was selected out of 5,800 large companies by CDP (formerly the Carbon Disclosure Project) for its Climate Change Leadership Level.
For detailed information about Delta, please visit: www.deltaww.com
Featured Product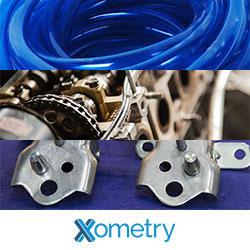 Xometry is your source for custom parts. Now, in addition to getting instant quotes on 3D Printing, CNC Machining, Sheet Metal, and Injection Molding, customers can create and send RFQs for die casting, stamping, and extrusion work to our nationwide network of pre-vetted manufacturers with just a 2D drawing. You will receive and be able to review responses from qualified shops within 7 days on an advanced web-based RFQ management platform. To learn more go directly to our site to issue and RFQ today. Stop wasting time managing RFQs through email and by phone, and start issuing RFQs at scale and in the cloud.