Next-generation ZT600 series and printer management solution provide best-in-class performance to keep print operations running smoothly
LINCOLNSHIRE, Ill.--(BUSINESS WIRE)--Zebra Technologies Corporation (NASDAQ: ZBRA), the market leader in rugged mobile computers, barcode scanners and barcode printers enhanced with software and services to enable real-time enterprise visibility, introduced the new ZT600 and ZT510 industrial printers designed to withstand the harshest environments while delivering superior print quality and uptime. Zebra also announced Printer Profile Manager Enterprise, a browser-based remote printer management solution for Zebra® Link-OS® enabled printers that greatly reduces cost and management time.

KEY FACTS
The ZT610 and ZT620 maintain Zebras legacy of producing durable, reliable printers with fast print speeds that increases productivity in the retail, manufacturing, transportation and logistics and healthcare industries.
Building on the success of the Xi4 series, the ZT600 printer series offers new user-friendly features like simplified media and ribbon loading, a highly visible color display that shares printer status and guided multi-media help that indicate errors to help users resolve issues quickly and increase printer uptime.
The ZT600 series runs Link-OS applications designed to streamline device deployment, network connectivity, daily use, and routine maintenance to optimize productivity.
Printer Profile Manager Enterprise enables IT staff to maintain Link-OS enabled printers with the most up-to-date security and makes it easy to remotely manage, troubleshoot and configure fleets of Zebra printers from a single location, reducing operational expenses.
Zebra is also introducing the cost-effective ZT510 printer, ideal for applications that require a basic feature set, yet exceed expectations of high-quality printing and durability.
Zebra printers work best with Zebra Certified Supplies, including thermal labels, tags and stock RFID identifiers, are available to help ensure consistency, while lowering total cost of ownership and optimizing printer performance.
SUPPORTING QUOTE
Keith LeFebvre, Vice President Product & Solutions Development & Management, Specialty Printing Group, Zebra Technologies
"The ZT600 series printers provide unrivaled quality, durability, and performance that can withstand any environment. Our Link-OS enabled products are network devices that are also great printers. With the introduction of Link-OS in our industrial printer line and the Printer Profile Manager Enterprise, Zebra is providing customers with printers that are easy to network, use, deploy, maintain and troubleshoot, which improves productivity and operational efficiency."
About Zebra
With the unparalleled operational visibility Zebra (NASDAQ: ZBRA) provides, enterprises become as smart and connected as the world we live in. Real-time information - gleaned from visionary solutions including hardware, software and services - gives organizations the competitive edge they need to simplify operations, know more about their businesses and customers, and empower their mobile workers to succeed in todays data-centric world. For more information, visit www.zebra.com or sign up for our news alerts. Follow us on LinkedIn, Twitter and Facebook.
ZEBRA and the stylized Zebra head are trademarks of ZIH Corp., registered in many jurisdictions worldwide. All other trademarks are the property of their respective owners. ©2017 ZIH Corp. and/or its affiliates. All rights reserved.
Featured Product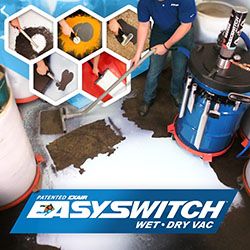 Intellistat Ion Air Gun produces ionized compressed air to neutralize static and remove troublesome particulates during clean processes, test procedures and sensitive assembly work. This new Ion Air Gun is ideal for sterile environments. Learn more about our special on Intellistat Ion Air Gun at https://exair.co/184-sepromo