Beneficial partnership will result in collaboration on expanded engineering services, wraparound automation equipment, and new products for clients using hydraulic and servo-electric powder presses.
Custom Automation & Machinery, Inc. (CAM-Engineers), a leader in custom automation and process equipment today announced a strategic partnership with LMG Presses, a division of Trinks, Inc. (LMG). The beneficial partnership will allow both companies to tap into new markets and provide their clients globally with economical, innovative engineering solutions for the design and production of environmentally responsible manufactured products. The partnership capitalizes on the synergy of the companies' unique strengths to develop and offer new products to a wider market.

CAM-Engineers specializes in providing ingenuitive solutions to highly complex industrial automation problems. In addition to the company's engineering services and custom automation design, CAM-Engineers offers several standard products that dovetail into LMG's existing product line of hydraulic presses. CAM-Engineers' standard products include the SEP-10T Servo Electric Powder Press, liquid silicone rubber pumps, and flexible automated smart-wedge indexing tables.
LMG specializes in hydraulic presses for molding materials such as phenolic, rubber, BMC/SMC, wood flour and carbon filled epoxy for a variety of industries such as medical, aerospace, automotive and energy, to name a few. LMG designs and builds both standard and custom presses, ranging from 5 to 3500 tons, to meet the needs of your application. LMG offers our customers a competitive advantage of working with a company that has vast experience and application knowledge that spans over many products and these industries. By working with LMG, you know you will have a competitive advantage with the most profitable manufacturing solution.
"We couldn't be more pleased to finalize this strategic partnership with the great folks at LMG," said Arthur M. Rabert, founder and president of Custom Automation and Machinery. "Our two companies have complementary core competencies, and which will allow us both to better serve our customers."
"This partnership gives us the ability to solve the automation needs for our customers to grow their capabilities," says Adrian Drewitz, sales manager at LMG Presses.
The partnership comes after the recent introduction of a new product from CAM-Engineers, the servo-driven electric powder compacting press SEP-10T for molding Teflon, ceramic, plastic and metal components. The SEP-10T is designed to benefit all industries which mold components with powder volumes of up to 5 cubic inches, including the automotive, sealing technologies (gaskets), medical devices, pharmaceutical, and oil & gas industries.
About Custom Automation & Machinery, Inc.
Founded in 2008, Custom Automation & Machinery (CAM) specializes in industrial automation projects with a special emphasis on controls engineering. Standard products include servo electric powder presses, liquid silicone rubber pumps, a flexible automated smart-wedge indexing table, turntables for injection mold machinery, hydraulic pressure test pulsing equipment, and coating and dipping process equipment. Custom products include fully automated and turnkey process manufacturing and assembly systems, lean workcells and test stands. CAM offers 24/7 field service and support, including on-site programming and troubleshooting for programmable logic controllers (PLCs), human machine interfaces (HMIs) and vision systems. For more information, visit http://www.cam-engineers.com.
About LMG, a Division of Trinks, Inc.
LMG was founded in 1935, and is the technological leader in the design and manufacture of equipment for rubber and plastic molding applications. The company produces hydraulic presses to include options such as rotary and shuttle tables, vacuum, multi-opening, easy-to-use controls integration, and heated/cooled platens. LMG can also design and provide a complete production cell with a material feed system, press, robot, plasticators, preformers and material off-load equipment to provide a profitable manufacturing solution. Visit us today, http://www.lmgpresses.com.
Featured Product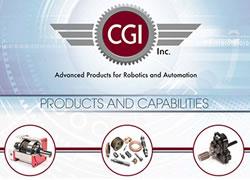 From Prototype to Production CGI Motion enables design excellence across a wide range of industrial applications. We thrive on customer driven innovation in precision gearbox, precision machined components and electro-mechanical assembly solutions ranging from aerospace systems to semiconductor applications. We are your design and manufacturing partner helping to differentiate your product, machine or innovation. Our team of problem solving engineers and product managers can bring your application to market on time and under budget. Whether it's an improvement on a current design or groundbreaking new designs, CGI has the know-how and team to enable design excellence. Connect with us today to explore what CGI Motion can do for you.