Freeman Technology is pleased to announce the release of a new application note 'Applications of the FT4 in Additive Manufacturing'.
Additive Manufacturing, also known as 3D Printing, involves 'printing often intricate components to a tight specification by gradually building up powder layers which are then selectively fused together. Controlling the performance of the powders is critical for process efficiency and end-product quality. How the powder flows, and packs as the layers are formed, are defining aspects of this performance.

This study evaluates three metal powders from the same supplier which exhibited significantly variable performance. The FT4 Powder Rheometer® was able to demonstrate several differences between the samples that correlated with process performance. The study also looks at process relevant variations in fresh and used feedstocks.
Please visit our website to view or download the application note.
Featured Product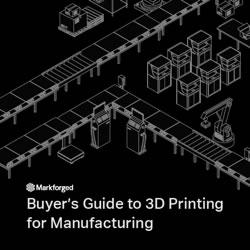 3D printing has become a powerful force in today's manufacturing industry from prototyping to tooling and fixtures to custom, end-use parts. Many businesses struggle to find the right solutions to fit their needs and provide ROI. Selecting the right platform to prevent manufacturing roadblocks is vital to optimizing your manufacturing line productivity. Download the all new buyer's guide to help you evaluate the benefits of 3D printing and dispel misconceptions, understand the pros/cons of various 3D printing processes and materials, and assess the key considerations in selecting a 3D printer.