Freeman Technology is pleased to announce the release of a new application note 'Applications of the FT4 in Additive Manufacturing'.
Additive Manufacturing, also known as 3D Printing, involves 'printing often intricate components to a tight specification by gradually building up powder layers which are then selectively fused together. Controlling the performance of the powders is critical for process efficiency and end-product quality. How the powder flows, and packs as the layers are formed, are defining aspects of this performance.

This study evaluates three metal powders from the same supplier which exhibited significantly variable performance. The FT4 Powder Rheometer® was able to demonstrate several differences between the samples that correlated with process performance. The study also looks at process relevant variations in fresh and used feedstocks.
Please visit our website to view or download the application note.
Featured Product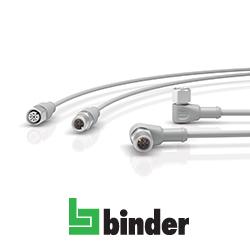 binder USA, LP, has expanded the M12 product family with the addition of the M12 A-Coded Connector, which is now certified for both Ecolab and FDA Code of Federal Regulations (CFR) Title 21 standards. The M12 A-Coded connectors are extraordinarily durable and IP69K-rated, ideal for harsh-duty and washdown applications in the food and beverage, pharmaceutical, and chemical industries. Available in 3, 4, 5, 8, and 12 contacts, the high quality stainless steel locking rings (V4A) and gold contact plating can also withstand UV exposure and shock and vibration.