The partnership will expand access to both companies' advanced additive manufacturing solutions to manufacturers across North America.
SUDBURY, MASS. (PRWEB) MAY 10, 2017

Methods 3D, Inc., a provider of innovative production grade 3D printing solutions, announced today that it has established a partnership with Markforged, an innovator in composites 3D printing. Methods 3D will provide sales, service and support for the Markforged line of 3D printers, including the Onyx series, Mark Two and Mark X. The partnership will expand access to both companies' advanced additive manufacturing solutions to manufacturers across North America.
Markforged is an innovative 3D printing company that delivers same-day strong, working parts made of carbon fiber composites. Markforged invented a proprietary continuous carbon fiber filament printing method and its products are used in the industrial, automation, automotive, aerospace and medical industries in over 50 countries worldwide.
"Markforged printers are an ideal complement to our extensive suite of additive manufacturing solutions," said Jamie Hanson, COO, Methods 3D. "With Markforged, we will significantly enhance our customers' production efficiencies by enabling them to quickly create tools, jigs and fixtures for myriad industrial applications. Our deep experience in metalworking manufacturing combined with Markforged's expertise in high strength parts is a perfect match for meeting today's demanding manufacturing challenges."
The Markforged partnership will also enable Methods Machine Tools' Automation Group to design, integrate and provide unlimited solutions for its CNC machining automation systems with the ability to print unique end of arm tooling components for robots, jigs, fixtures and more.
"Methods 3D offers a broad additive manufacturing platform and is on the leading edge of 3D printing as well as traditional manufacturing," said Greg Mark, CEO, Markforged. "We are excited to partner with a company that has a proven track record of delivering excellent, innovative manufacturing solutions."
About Markforged
As one of the most respected, innovative and rapidly growing 3D printing companies, Markforged's mission is to provide its customers with high strength parts, built right the first time. In 2014, Markforged revolutionized 3D printing with the introduction of the world's first carbon-fiber composite 3D printer. Today, Markforged's lineup of innovative printers and groundbreaking materials, along with Eiger cloud software, are making exceptionally strong parts for thousands of customers in over 50 countries around the world.
Markforged industrial-strength 3D printers produce mission-critical, workhorse parts that solve real problems for their customers, and realize structures that were never before possible. For more information, visit http://www.Markforged.com.
About Methods 3D
Methods 3D, Inc. is a dedicated team of industry-experienced, highly skilled technical sales and applications engineers fully integrated with, and leveraging, the extensive machining, manufacturing experience and support of Methods Machine Tools, Inc.
Methods 3D enhances Methods Machine Tools' portfolio of leading-edge precision machine tools and solutions for traditional manufacturing with advanced 3D printing solutions. This enables customers to enter new markets, expand their manufacturing capabilities, and revolutionize manufacturing with 3D printing. Methods 3D has seven additive manufacturing labs, strategically located at each of Methods Machine Tools' technology centers including Sudbury, MA (Boston) headquarters; Detroit, MI; Charlotte, NC; Chicago, IL; Phoenix, AZ; San Francisco, CA; and Los Angeles, CA.
For more information, please visit http://www.methods3d.com/.
Featured Product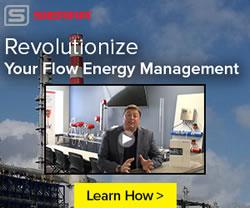 Sierra Instruments announces the launch of its new flow energy solution for managing and optimizing flow measurement for industrial facilities of all sizes. It features Sierra's QuadraTherm 640i/780i thermal flow meters, their InnovaMass 240i/241i vortex flow meters, and their new InnovaSonic 207i ultrasonic flow meter. Designed, built, and calibrated in the USA by Sierra, the Big-3TM share the same revolutionary Raptor firmware and many of the same software apps. They are a complete flow energy solution for flows like compressed air, natural gas, steam, and hot and chilled water. Together, they set a new standard in ease-of-purchase, performance, accuracy, reliability, and ease of use.