 New platform will transform production of mass customized and complex end use parts while meeting durability and repeatability requirements of production environments  First shipment made to Fortune 50 industrial company
CHICAGO, Illinois, March 20, 2017 - Delivering on its strategy to transform 3D manufacturing workflows, 3D Systems (NYSE:DDD) today announced the industry's first modular, scalable and fully-integrated additive manufacturing platform. 3D Systems' disruptive Figure 4 production platform produces plastic parts more than 50 times faster than current systems, delivering dramatically lower total cost of operations while offering competitive and compelling comparisons to conventional methods.

Based on its revolutionary Figure 4 technology, 3D Systems' new platform allows customers to tailor configurations and select materials to address specific applications. Configurations range from single-print engine machines to fully automated, high-volume production systems with 16 or more print engines, automated material delivery and integrated post-processing.
The company recently shipped the first system to a Fortune 50 industrial customer, and plans to ramp customer-specific shipments throughout the second half of 2017.
3D Systems' Figure 4 fully automated, high-volume 16-print engine production solution.
"We believe our breakthrough Figure 4 platform will revolutionize manufacturing by
transforming production of both mass customized and complex end use parts with a
compelling total cost of operations versus conventional methods," said Vyomesh Joshi
(VJ), President and CEO, 3D Systems. "While others are realizing the need to transition
from prototyping to production, we are delivering real solutions across all key vertical
markets and applications that are helping customers solve problems today."
As part of its vertical strategy, 3D Systems will unveil one of its initial solutions for the
multibillion-dollar dental industry based on the Figure 4 platform and its NextDent
materials. Customers will be able to see the solution at the International Dental Show
(IDS) 2017, in Cologne, Germany, March 21-25.
Over time, the company intends to extend the Figure 4 platform application by
application to meet specific customer needs across healthcare, aerospace, automotive
and durable goods industries.
About 3D Systems
3D Systems provides comprehensive 3D products and services, including 3D
printers, print materials, on demand manufacturing services and digital design
tools. Its ecosystem supports advanced applications from the product design shop
to the factory floor to the operating room. 3D Systems' precision healthcare
capabilities include simulation, Virtual Surgical Planning, and printing of medical
and dental devices as well as patient-specific surgical instruments. As the originator
of 3D printing and a shaper of future 3D solutions, 3D Systems has spent its 30
year history enabling professionals and companies to optimize their designs,
transform their workflows, bring innovative products to market and drive new
business models.
More information on the company is available at www.3dsystems.com
Featured Product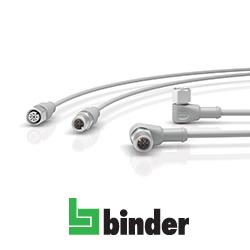 binder USA, LP, has expanded the M12 product family with the addition of the M12 A-Coded Connector, which is now certified for both Ecolab and FDA Code of Federal Regulations (CFR) Title 21 standards. The M12 A-Coded connectors are extraordinarily durable and IP69K-rated, ideal for harsh-duty and washdown applications in the food and beverage, pharmaceutical, and chemical industries. Available in 3, 4, 5, 8, and 12 contacts, the high quality stainless steel locking rings (V4A) and gold contact plating can also withstand UV exposure and shock and vibration.