Concept Laser will support GoEngineer in their expansion into metal additive manufacturing
GoEngineer and Concept Laser today announced that they have entered into a partnership that teams the market-leading strengths of each company to expand their respective footprint in metal additive manufacturing. GoEngineer will be a marketing channel for Concept Lasers portfolio of machine solutions.

The partnership is a strong strategic fit, leveraging the two leading companies respective strengths:
GoEngineer has been providing customers with best-in-class products for more than 30 years, combining Stratasys additive manufacturing tools with SOLIDWORKS design solutions. This competitive offering allows GoEngineer to educate their customers across the entire spectrum of design to print, helping organizations bring designs to life.
Concept Lasers global leadership in powder-bed laser metal additive manufacturing systems.
GoEngineer operates 18 training & support centers located throughout the Central and Western U.S.
"The relationship with Concept Laser presents a powerful opportunity for GoEngineer to understand and assist our customers as they develop strategies to move into the metals market while minimizing risk. While there are other 3D metal printing manufacturers, Concept Laser was the best choice based on global performance, market share and relentless innovation," says Brad Hansen, CEO of GoEngineer.
"Were excited to partner with GoEngineer as we focus our combined energies serving a broader range of customers with industry-leading 3D metal printing machine solutions. GoEngineers outstanding reputation in additive manufacturing design, services, and support makes them a premium partner," states John Murray, President and CEO of Concept Laser Inc.
The two organizations recently jointly produced a race car chassis which will be a showcase product at future events. GoEngineer designed the fully dense metal chassis using a workflow involving metrology-grade laser scanners, analysis-driven topology optimization software, and parametric CAD tools. The metal chassis was built on the Concept Laser M2 cusing machine in aluminum. Come see the race car chassis at the Additive Manufacturing Users Group (AMUG) 2017 Conference from March 19-23rd in Chicago, Illinois.
ABOUT GOENGINEER
GoEngineer delivers software, technology and expertise that enable companies to unlock innovation and deliver better products faster. With more than 30 years experience and thousands of customers in high-tech, medical, machine design, energy and other industries, GoEngineer provides best-in-class design solutions from SOLIDWORKS, Stratasys, CAMWorks, and Product Lifecycle Management (PLM). For more information, visit http://www.goengineer.com.
ABOUT CONCEPT LASER
Concept Laser GmbH is one of the worlds leading providers of machine and plant technology for the 3D printing of metal components. Founded by Frank Herzog in 2000, the patented LaserCUSING® process - powder-bed-based laser melting of metals - opens up new freedom to configuring components and also permits the tool-free, economic fabrication of highly complex parts in fairly small batch sizes.
Concept Laser serves various industries, ranging from medical, dental, aerospace, toolmaking and mold construction, automotive and jewelry. Concept Laser machines are compatible with a diverse set of powder materials, such as stainless steel and hot-work steels, aluminum and titanium alloys, as well as precious metals for jewelry and dental applications.
Concept Laser Inc. is headquartered in Grapevine, Texas and is a US-based wholly owned subsidiary of Concept Laser GmbH. For more information, visit our website at http://www.conceptlaserinc.com
LaserCUSING® is a registered trademark of Concept Laser.
Featured Product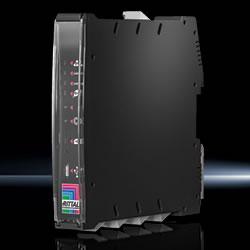 Download the Rittal Fact Book, we'll show you side-by-side product comparisons of Rittal and competitive products, and let you decide. You are an innovator. Your mind runs with "What if?" and the status quo can always be improved. When you find a supplier like Rittal who is forward thinking, you know you've found a partner. A supplier known worldwide for equipment that incorporates cutting edge technology, designed for efficiency, and solves problems other engineers hadn't even considered yet. A company that lives the Industry 4.0 world and puts it into practice in every step of the process.