 Machine vision in embedded systems  Interesting live demo and presentations by experts
Munich, February 15, 2017 - At embedded world in Nuremberg, MVTec Software GmbH (www.mvtec.com), the leading provider of machine vision software, demonstrates the robustness, speed, and reliability of machine vision in embedded systems. At booth 503 in hall 4, visitors can experience the performance of the HALCON Embedded machine vision software, which can also be used, for example, on mobile, Android-based devices, as well as smart cameras and mobile vision sensors. Presentations by experts (held every hour, alternately in English and German) on the topic of "Debugging of Embedded Vision Applications" will demonstrate how developers of machine vision applications can find and fix programming errors in embedded platforms more quickly.

IIoT / Industry 4.0 demonstration and expert discussion
Embedded vision in Industrial Internet of Things (IIoT) or Industry 4.0 scenarios is illustrated with a hands-on live demonstration: A robot uses a needle to draw one of four possible motifs on a banana. Before that, the information as to which motif should be drawn is conveyed to the system with a letter code on the bananas label. Using HALCONs deep-learning-based OCR reader, the embedded system recognizes the code and forwards the information about the requested motif to the robot. A stereo sensor delivers the output data that allows HALCON Embedded to detect the bananas surface, define the curvature using deformable 3D matching, and engrave the image on the banana in accordance with the detected deformation. The workpiece itself, in this case the banana, carries the information how it should be processed - one of the key ideas of the IIoT.
The program is rounded off with a VDMA panel discussion on the topic of "Embedded Vision". The event, which includes experts from MVTec and representatives of ARM and the Embedded Vision Alliance, will be held on Wednesday, March 15, from 3:00 - 4:00 pm in the forum in hall 3A of Messe Nürnberg.
"This year, embedded world once again offers a forum in which visitors can experience exciting embedded technologies and innovations in a live setting. The trade show also serves as a platform for communication and a dynamic exchange of ideas between industry experts. We use this setting to present our industry-ready embedded vision solutions to a global expert audience," explains Dr. Olaf Munkelt, Managing Director of MVTec Software GmbH.
About HALCON
MVTec HALCON is the comprehensive standard software for machine vision with an integrated development environment (HDevelop) that is used worldwide. It enables cost savings and improved time to market. HALCONs flexible architecture facilitates rapid development of any kind of machine vision application. MVTec HALCON provides outstanding performance and a comprehensive support of multi-core platforms and special instruction sets like AVX2, NEON, as well as GPU acceleration. It serves all industries, with a library used in hundreds of thousands of installations in all areas of imaging like blob analysis, morphology, matching, measuring, identification, and 3D vision. The software secures your investment by supporting a wide range of operating systems and providing interfaces to hundreds of industrial cameras and frame grabbers, in particular by supporting standards like GenICam, GigE Vision, and USB3 Vision.
www.halcon.com
About HALCON Embedded
HALCON Embedded means HALCON running on your special platform. HALCON is portable to various microprocessors/DSPs, operating systems, and compilers. HALCON Embedded allows software engineers to develop the software part of machine vision applications on a standard platform and thereby greatly eases the programming of an embedded system. Short said: develop on a PC, and let the application run on an embedded system. HALCON Embedded is available for various smart cameras and other embedded platforms.
www.halcon-embedded.com
About MVTec
MVTec is a leading manufacturer of standard software for machine vision. MVTec products are used in all demanding areas of imaging: Semi-conductor industry, web inspection, quality control and inspection applications in general, medicine, 3D vision, and surveillance. MVTec, with its head office in Munich (Germany), has more than 30 established distributors worldwide and in addition, MVTec, LLC works out of Boston, MA (USA). www.mvtec.com
Featured Product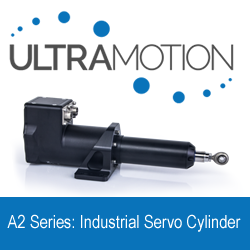 The AM series actuator is our most heavily ruggedized Servo Cylinder model. It features high performance mil-spec connectors and has been hardened to higher magnitude mechanical shock and vibrations. This actuator is suitable for harsh environments.