Revolutionary Markforged 3D printers use materials such as Kevlar®, carbon fiber, and fiberglass which make it possible to create parts for manufacturing applications and in finished products.
DesignPoint Solutions, a leading provider of solutions for product design, engineering, manufacturing and 3D printing in the Northeast and Mid-Atlantic states, is proud to announce Markforged 3D printers will now be included in their solution offerings. DesignPoint serves engineering and manufacturing companies with 3D software and hardware solutions for product development. Markforged is a leader in 3D printing (also known as additive manufacturing) with the use of advanced materials for producing high-strength parts. The Markforged 3D printer can print using fiberglass, carbon fiber, Kevlar®, and metal (coming in Q3) -- this enables parts to be created for functional prototypes, jigs/fixtures/tooling for manufacturing or even as finished production parts.

"The capabilities in additive manufacturing have continued to evolve," stated Allan Pincus, Director of 3D Printing Technology at DesignPoint. "3D printing is no longer a competitive advantage, it has become a competitive necessity for companies that develop or manufacture products. Markforged expands these possibilities with the ability to create the highest strength 3D printed parts, greatly impacting the following key use cases: 1) Functional prototypes, 2) tools, jigs, and fixtures, and 3) use as production parts for the right end-user applications."
Markforged lies at the intersection of industrial 3D printing and real-world fabrication. It merges the reliability of high-quality 3D printers with the strength of machined metal parts. These "metal like" parts dramatically expand the potential use of 3D printed parts. For instance, a manufacturing engineer can design a jig, fixture or special tooling, create it, and then use it in actual production. Still, other companies are using Markforged printed parts in their final assemblies. See the chart that plots various materials including aluminum with Markforged printed parts.
"We are very selective when partnering with value-added resellers, stated Matt Katzman, Director, Worldwide Sales at MarkForged. DesignPoint's philosophy of 'more is possible' aligns well with our own. Markforged is pushing the envelope in additive manufacturing, and we are confident DesignPoint will be a great partner in delivering more efficient product development and manufacturing to clients with our technology."
To learn more about additive manufacturing with Markforged 3D printers, register to attend a DesignPoint Solutions event in one of their three offices (Clark, N.J.; Lancaster, Pa.; Philadelphia, Pa.). Visit http://www.design-point.com/events/ for details. For more information, send an email to info(at)design-point(dot)com.
ABOUT DesignPoint Soluotions
DesignPoint Solutions provides a complete set of software solutions and 3D printers for companies who design and manufacture products in the Northeast and Mid-Atlantic states. For 3D software, DesignPoint is an authorized value-added reseller for SOLIDWORKS®, DriveWorks®, and SolidCAM®. For 3D printers, DesignPoint is an authorized value-added reseller of Markforged® and 3DSystems®. DesignPoint Solutions offices are located in Lancaster, Pa.; Philadelphia, Pa.; and Clark, N.J. For more information, please visit http://www.design-point.com.
Featured Product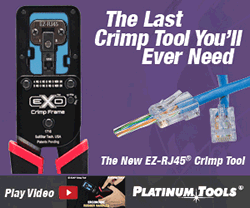 Platinum Tools is proud to present the newly patented EXO Crimp Frame® and EZ-RJ45® Die as our new EZ-RJ45 Crimp Tool! Built to terminate the original EZ-RJ45 connectors, which have been a staple in the industry for almost two decades, this crimp tool improves the trim and crimping processes of EZ-RJ45 connectors by using a single cycle crimp and flush trim.